This year's Spring Fling will keep this annual event's best-ofs in an outdoor, block party setting!  Help us reach our $30,000 fundraising goal by bidding on classroom art projects (featuring each Wildcat's unique contribution), themed gift baskets compiled by each class, over 50 goods and experiences packages donated by local businesses, tickets to hosted parties by Whittier families, and more! While you bid, enjoy local food trucks, plenty of beverages, music, and (finally!) hang with other Whittier parents and caregivers at this adults-only evening event.
Tickets are $30 each and include a custom drink koozy. Buy two for $50 and also receive a free drink ticket to use while you Fling!
Get Ready to Fling!
Before, Saturday, May 21, create a schoolauction.net account

Whether you can join us in-person or not, you'll want to create an account to participate in our auction before Saturday, May 21!
A schoolauction.net account will allow you to bid on ALL auction items, contribute to "Fund the Need," and buy drinks and other items AT the event. You'll need to create a schoolauction.net even if you've already purchased a ticket!
Your bids will be displayed with the online handle so make it as anonymous (and fun) as you would like
Enter your mobile phone number to receive text alerts to start bidding and when you are outbid.
Can't attend Spring Fling but want to help us reach our $30,000 fundraising goal? You can bid on auction items ONLINE on May 21 between 5:30-7pm. Mark your calendar so you don't miss it!
Browse the online Auction Catalog and favorite items you want to bid on. We'll have QR codes at the event to easily find each item, but favoriting the catalog will make it even easier!
Plan your Spring Fling 'Fit': Plan your weather-appropriate "Wild Wear" for this outdoor, block-party style event! We'll have name tags and stickers to identify your Wildcat(s') grade(s) at the event.
Saturday morning–take a rapid Covid test! Let's keep our community safe!
Check-in/Registration will open at 4:45pm: If you've already bought your tickets online and you've created your schoolauction.net account, just come armed with your phone for bidding and ready for fun!
Food and Drinks: Come hungry and thirsty as the food trucks and beer garden open at 5pm

Browse the food truck menus: Now Make Me a Sandwich and Fish Basket NW.
The beer garden only accepts drink tickets. You may purchase these for $7 at the check-in table. You will use your bid number to purchase drink tickets so no need to bring cash. There will be sparkling water available around the street for free.

The online silent auction will begin at 5:30pm and all tables will close at 7pm.
An online "Fund the Need" auction will start at approximately 7:15pm.
Please be prepared to pay for your winnings at the end of the evening and take it home with you. Payment for winnings (and any other purchases made during the event) will be processed through your schoolauction.net account; you'll visit the check-in table after checking out online to get auction item collection slips. If you have a large or fragile item (e.g. class art or bucket), we can store it at school and arrange pickup the following week.
The evening will end at 9:00pm. Please walk or have a responsible ride home. Signs for Uber/Lyft/Cabs will be available around the street
Thanks for supporting Whittier Elementary PTA! For questions or concerns, please contact springfling@whittierptaseattle.org.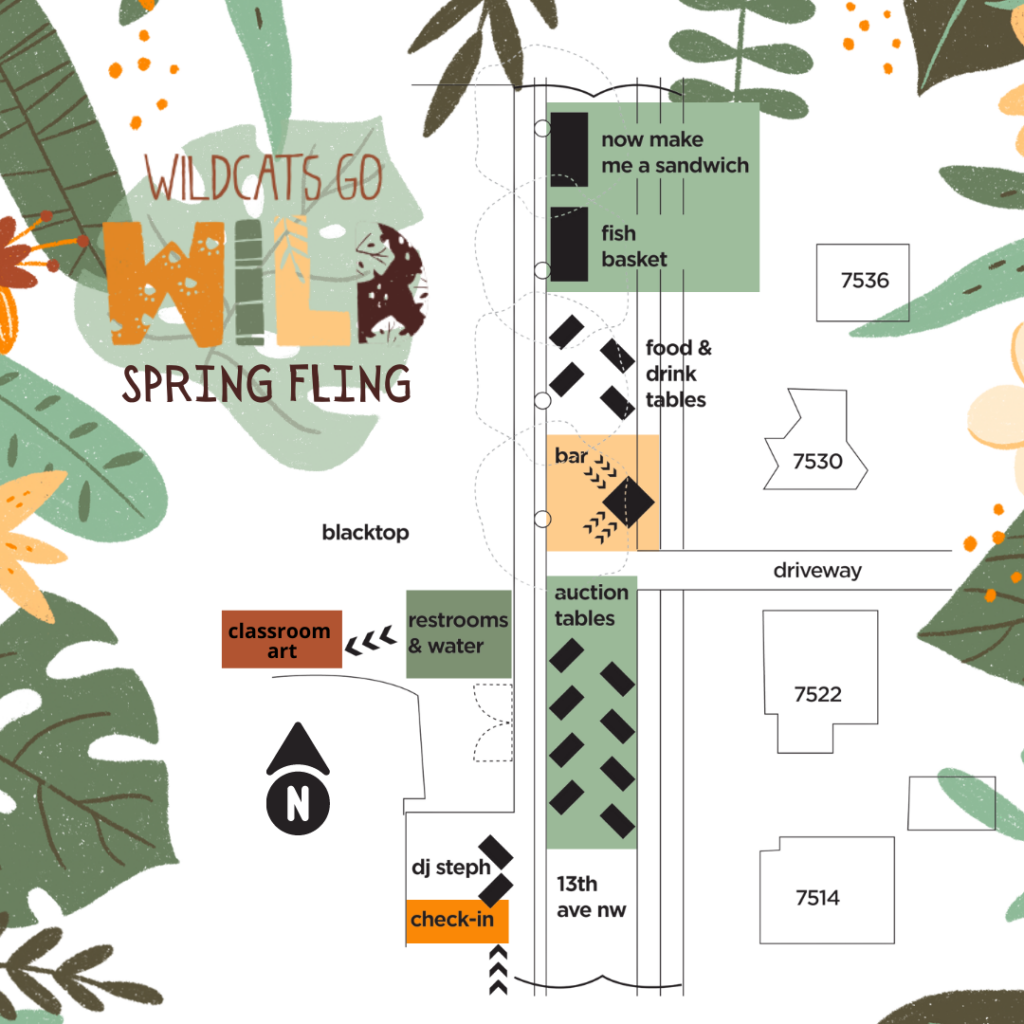 This year's auction will feature:

Thank You to Our 2022 Spring Fling Auction Donors!