After School Programs at Whittier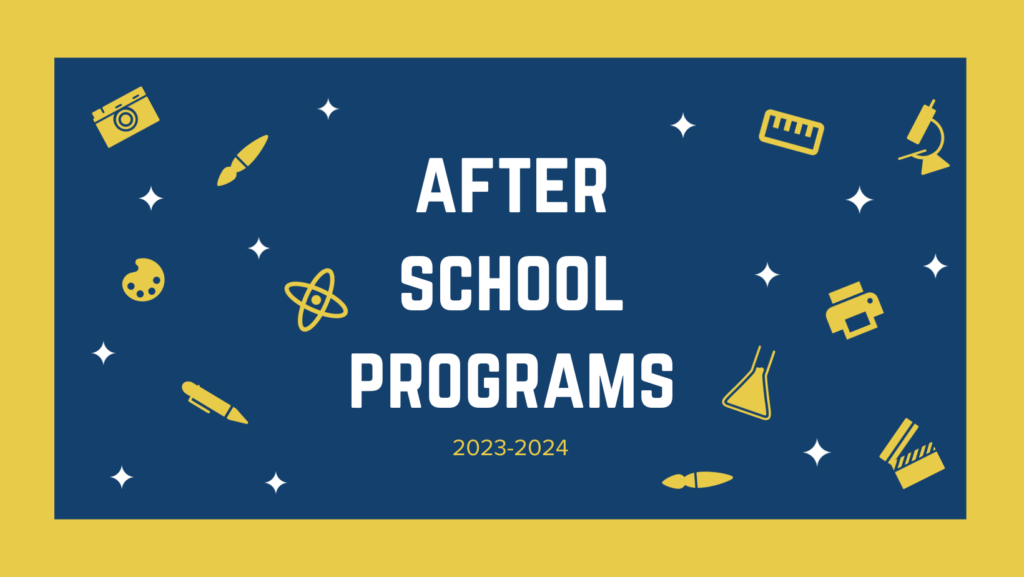 Winter 2024 Programs
Whittier PTA is excited to partner with local orgs and teachers to offer a variety of fun after-school enrichment clubs for students in grades 1-5.
Registration for winter session opens on January 8th. Create your account on 6crickets.com before registering.
Winter classes begin on January 22nd. Classes meet weekly through March 21.
Monday
Chess Wizards (Grades 1-5)
2:25-3:30 pm
Classes are geared to suit children of all skill levels—from chessling to checkmate artists. Students will build upon their knowledge through lessons, tournaments, variation games, and more!
Introductory Spanish with Jump on Languages (Grades 1-5)
2:25-3:30 pm
Students will learn Spanish words and culture while developing motor skills and creativity. Teachers will mostly speak Spanish and guide them through fun activities.
Tuesday
BEAM Experiences: Dungeon Master Academy (Grades 3-5)
2:25-4:00 pm
Curious about how to play Dungeons and Dragons? Learn to be a Dungeon Master and forge your own adventure! Students will build magical worlds, draw amazing maps, and craft fantastic stories.
Gamer Group with Mr. Buck (Grades 1-2)
2:25-4:00 pm
Students will learn to play new board games, make new friends, and have tons of fun!
Thursday
Coding With Kids: Scratch Game Development (Grades 3-5)
2:25-3:30 pm
Do you love playing games and telling stories? If you do, then this course is perfect for you! We'll use Scratch, a fun drag-and-drop coding tool that lets you create cool games, animations, and interactive stories.
Bricks For Kidz: Jurassic World (Grades 1-2)
2:25-3:30 pm
Using motorized LEGO® bricks, we will build a world that comes to life with the gentle Brontosaurus, ferocious Velociraptor, terrifying T. Rex, and more! 
Gamer Group with Mr. Buck (Grades 3-5)
2:25-4:00 pm
Students will learn to play new board games, make new friends, and have tons of fun!
How to Register

This year, we are using 6crickets.com to manage registration and classes for all after-school programs. This tool will simplify the registration process and make it easier for families, vendors, and school staff to participate.
YOU MUST SET UP YOUR ACCOUNT before registering for classes on January 8th. Once you set up an account, you can learn more about each program and tuition. Please don't wait until the last minute!
We Need Volunteers!

After-school programs at Whittier can't happen without your help! Shifts are once a week and are either 60 or 90 minutes. Volunteers help students line up, take attendance, and provide light support to after-school instructors as needed. For information and opportunities to volunteer, please contact Jen at programs@whittierptaseattle.org. Reduced tuition opportunities may be available for families who volunteer.
Scholarships & Additional Support
We strive for equitable opportunities for all students. For scholarship information, please contact programs@whittierptaseattle.org.
If you want to sign your child up for an activity and they need extra support in the classroom, please contact programs@whittierptaseattle.org for options.
Other Considerations

Waitlist
Spots are limited, though families can join the waitlist if classes are full. Waitlisted families get priority enrollment if they are on the waitlist for a class offered the following term. Please email the enrichment providers directly with questions concerning the waitlist, schedule, or class policies.
Fees
A $10 registration fee is included in tuition to support Whittier Elementary PTA after-school enrichment. Registration fees are used to fund scholarships and pay for volunteer background checks.
Behavior Policy
If a student is behaving in a way that is disrupting the class and the teacher(s) is unable to control such behavior, the vendor will reach out to the parent of the student and inform the parent and the Programs Chair of the behavior concern as well as the vendor's policy regarding next steps.
Roles & Responsibilities
Whittier Elementary and Seattle Public Schools are not affiliated with or connected to the Whittier PTA Programs offerings or individual program vendors. Whittier PTA coordinates building reservations and hosts registration links for independent enrichment providers. Enrichment providers manage registrations and schedules through the 6crickets platform.
Please direct all of your questions to programs@whittierptaseattle.org or the appropriate enrichment provider.