March 13, 2023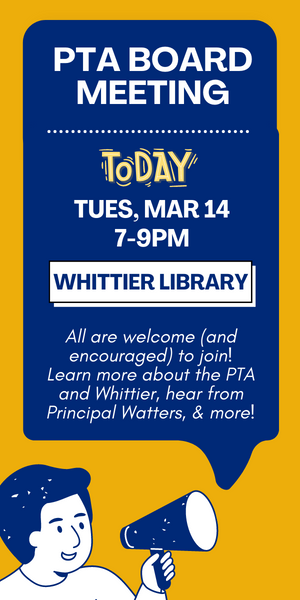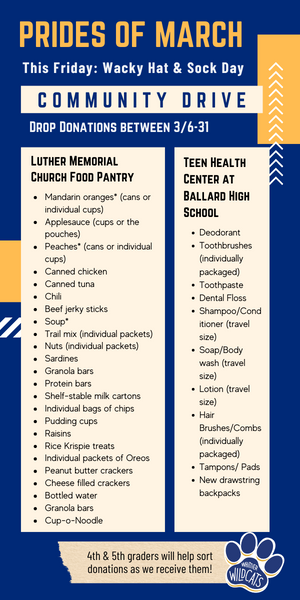 ---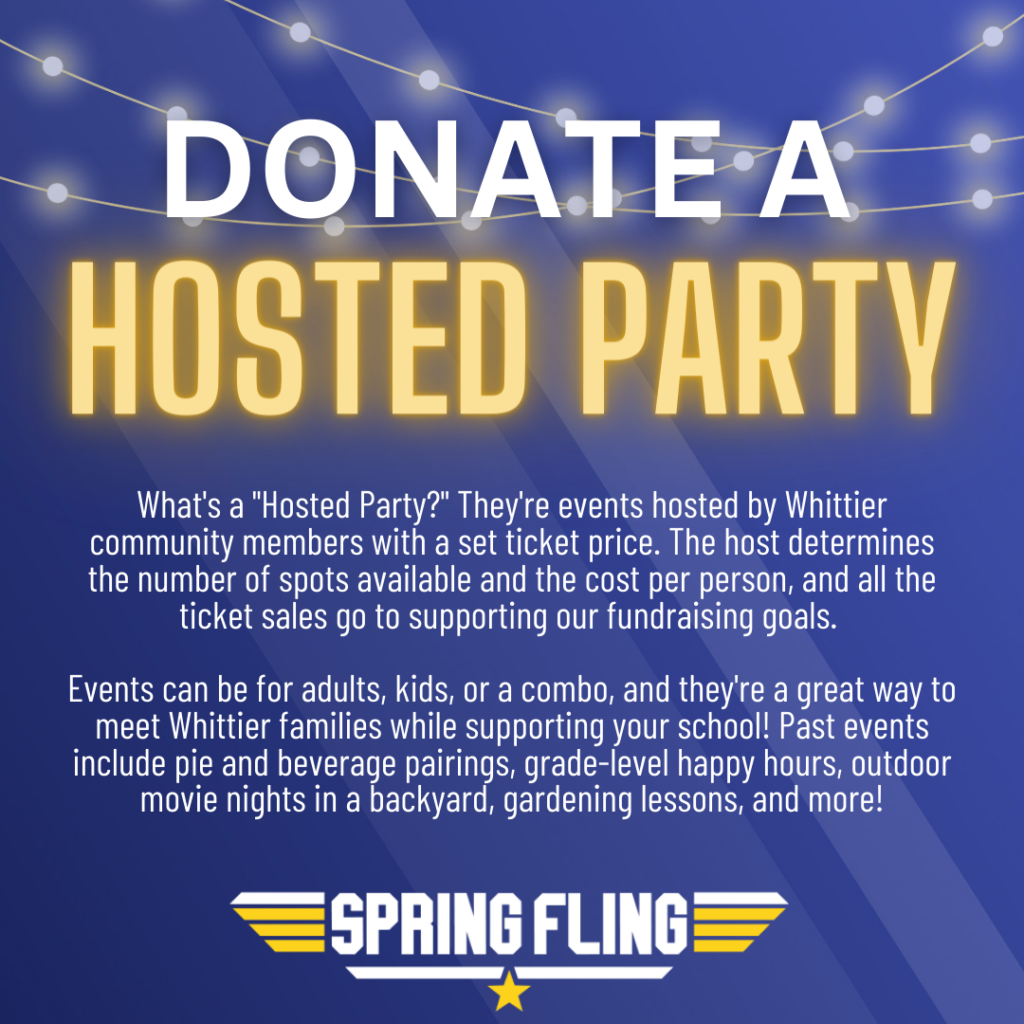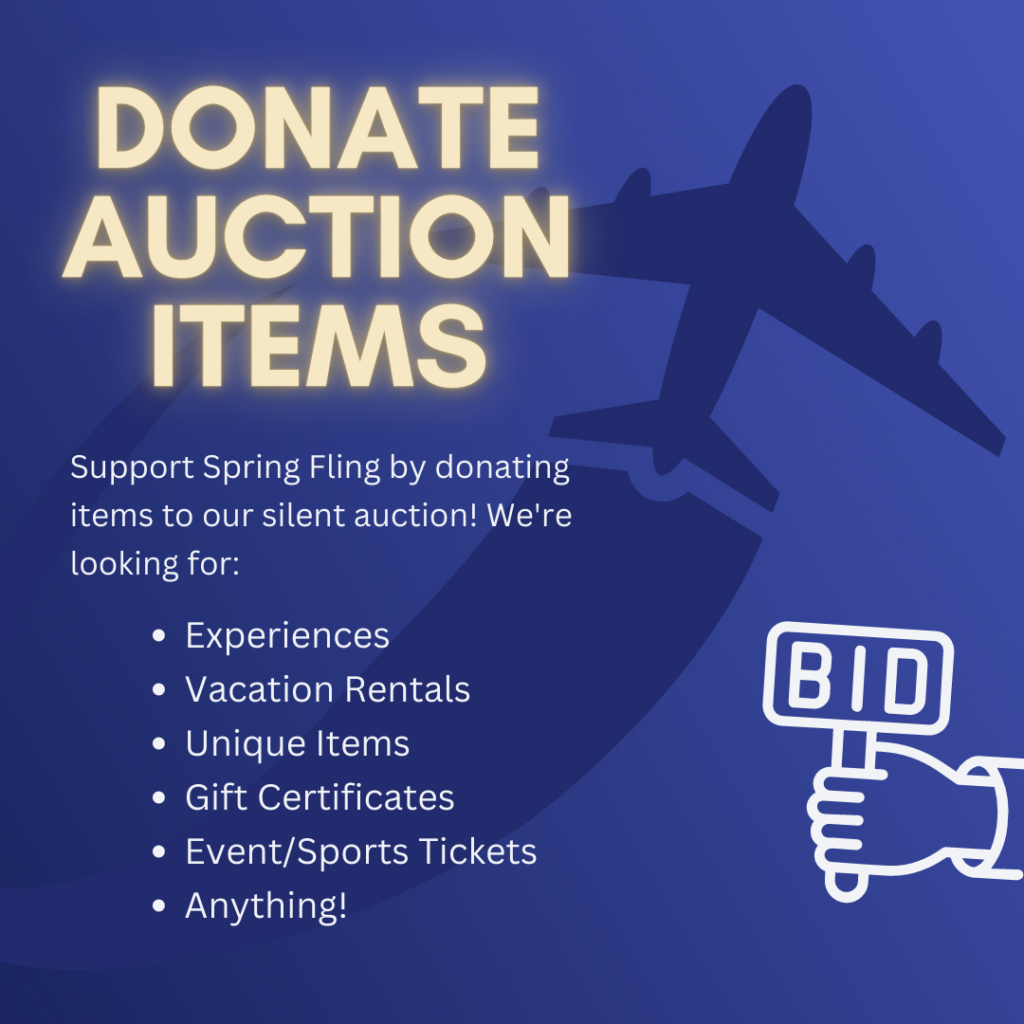 We're also still seeking Class Bucket coordinators for two more classrooms: DiTullio and Provence. And congrats to our community–all Class Art coordinator spots have been filled!
---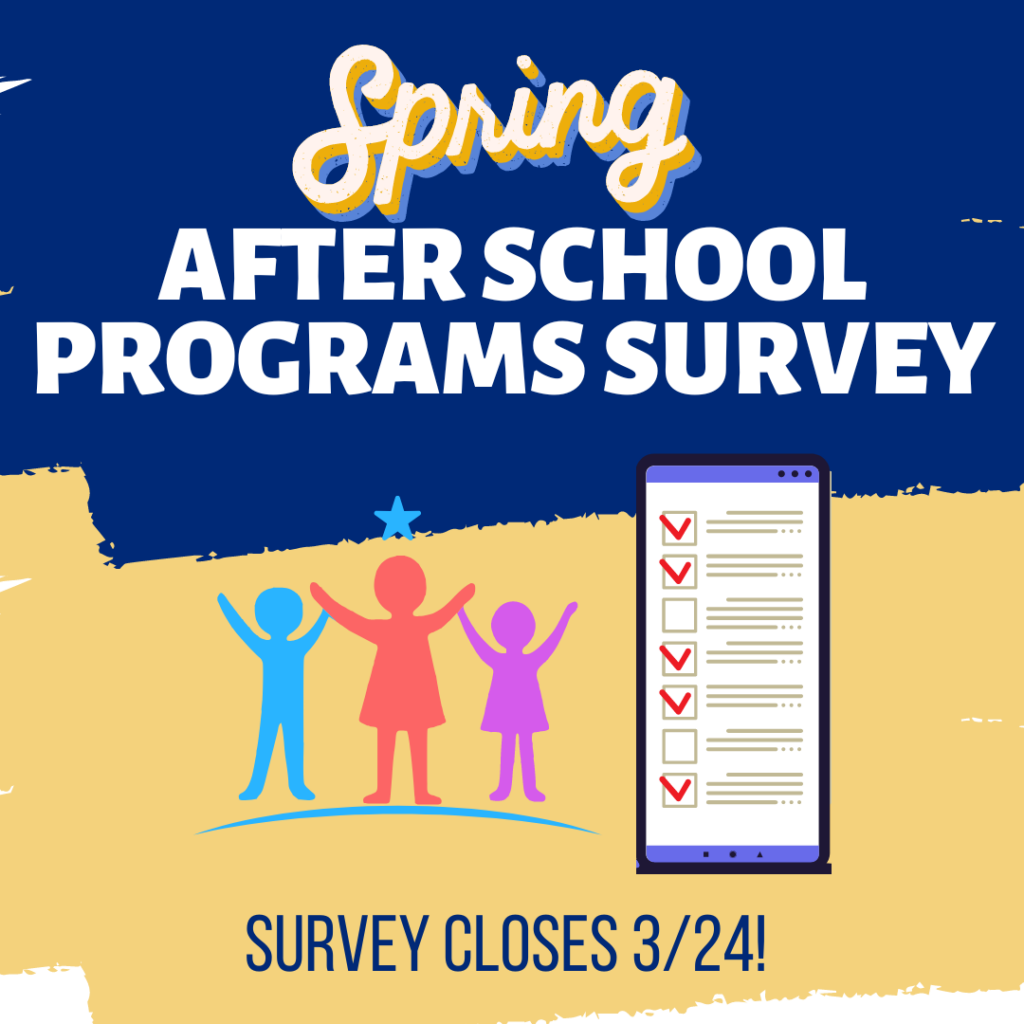 Library Book Drive Continues Through May!
Please consider donating a book to our library collection! All donated books will be shipped to our school processed and ready to be added to the shelves! Email Ms. Newcomb if you have any questions. This link will take you directly to the Whittier book wishlist. Thank you in advance for supporting our library!
---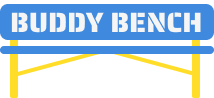 What EDI is Working on This Week
Supporting Gender-Diverse Youth: What Can Our Community Do? Interactive Workshop
Thursday, March 16 from 6-8pm
Adams Elementary School (6110 28th Ave NW)
Join presenter Sam Cristol, M.Ed. (they/he), program coordinator in the Health Education Office at Seattle Public Schools for an interactive workshop to build literacy and speak affirmingly about gender-diverse identities. Learn skills and strategies to effectively support the young people in our lives. Together, we'll walk through scenarios, review students' rights in our schools, and learn why family support is the number-one predictor of LGBTQ health outcomes. Whether you're the parent of a gender-expansive kid or just want to know how to improve your allyship to these communities, we look forward to learning with you.
Childcare will be provided for children ages 3+ for this in-person event.
Snacks and drinks will also be available.
Co-hosted by Adams Elementary PTA, Loyal Heights PTA, Licton Springs PTA, Whittier PTA, and Friends of Salmon Bay.
PNW Parent Education Presents "Consent At Every Age: Why and How We Need to Talk to Our Young People About Consent"
Join PNW Parent Education as we partner with Jo Langford, M.A., to bring you Consent at Every Age: Why and How We Need to Talk to Our Young People About Consent. Virtual talk is on March 29 from 7-8:30pm. Register at https://tinyurl.com/pnwconsent
With our evolution both culturally and technologically, a new awareness is emerging about why and how we need to speak to our young people about consent. In this talk with Jo Langford, M.A., we will take a deep dive into all things consent, including:
A comparison of passive and affirmative consent
A breakdown of the biggest hurdles and potholes young people face with regard to consent, and how we can counterbalance them.
Definitions and discussions of concepts such as true consent, virginity and rape culture
Primers on gender issues, adolescent brain development and best practices for negotiating consent with screens
Tips and tricks for parents, a healthy dose of Q&A and a few fun games
Questions? Contact PNW Parent Education!
---

---
A Recommendation from our Community: Seattle Families of Multiples Consignment Sale
A giant kids consignment sale is coming March 25, 2023 from 9-11:30 am at Shoreline Community College. Free admission and no registration required. Sponsored by Seattle Families of Multiples, this spring sale features gently used clothes, toys, books, baby gear, bikes, and more. Learn more about the sale
---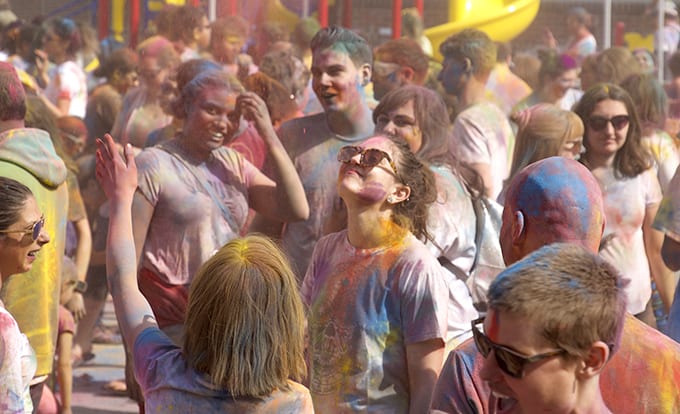 Join the Holi Festival of Colors on 3/25!
Holi is a Hindu festival that celebrates spring, connection, and the triumph of good over evil. Join the celebration with traditional music, dance, food, and color throwing at the Phinney Center from 1-3pm on March 25th! Folks from all religions, cultures, backgrounds, and ages are invited to participate. For tickets and more information visit: https://www.phinneycenter.org/calendar/holi23/
---
Thank You, Wildcats!