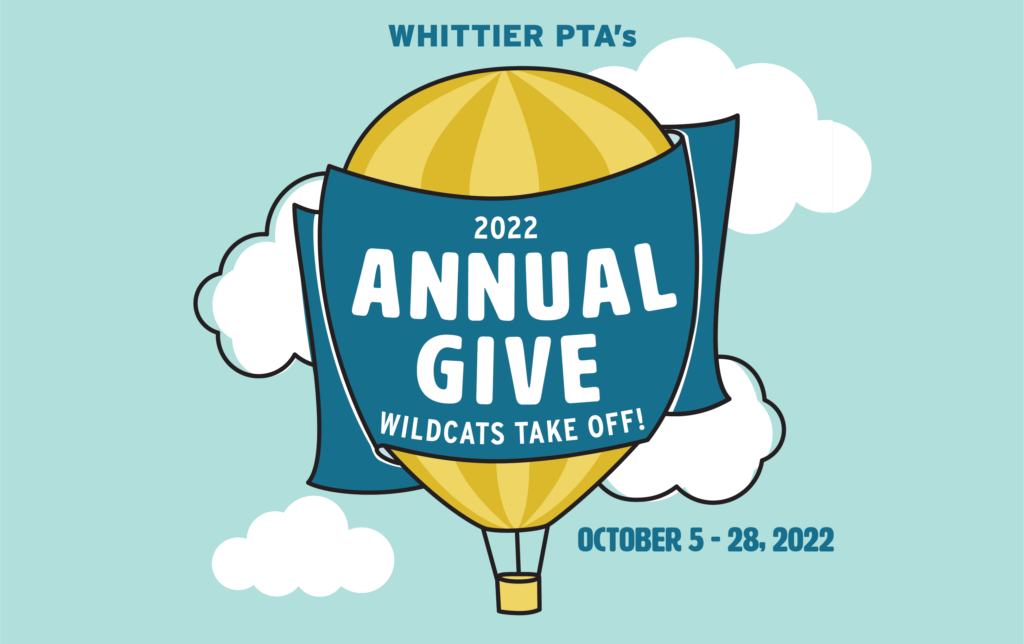 Our Goal
This year's "Wildcats Take Off" Annual Give campaign is part of our Fall Fundraising Drive and one of Whittier PTA's three primary fundraisers. To fund the programs and services we're committed to support in 2022-2023, Whittier PTA has set a Fall Fundraising goal, spanning both Annual Give and Move-a-thon, of $90,000. This works out to a suggested donation of $250 per student.
However, we know this is a big ask—please do what is right for your family and know that ALL donations are appreciated. From $10 to $1000, EVERY donation fuels the school; and EVERY student, teacher, and family benefits.
Ways To Donate
By check (made payable to Whittier PTA): attach your check to the "Wildcats Take Off" Response Card and return it in the yellow envelope via KidMail or in the mail slot at the school's front entrance.
Employer Matching: Amplify your gift by participating in your employer's Corporate Matching Program. Don't know if your company offers employer matching? Visit our Employer Matching page to determine next steps.
Families will receive their "Wildcats Take Off" campaign materials via KidMail on Tuesday, October 4. Please submit your donation (online or by check) no later than Friday, October 28th.
All donations are 100% tax deductible (minus the fair market value of any donor gifts received). You will receive a receipt from Whittier PTA after you've submitted your donation.
Level Up!
ALL students will receive a Whittier-themed "thank you" gift when we reach our campaign goal, and personal donations of $100 or more are eligible for special thank you gifts from Whittier PTA. Please stay tuned for details on our thank you gift offerings! ** Donor gifts are examples only. Due to supply chain and shipping challenges, actual items may differ from the items pictured.