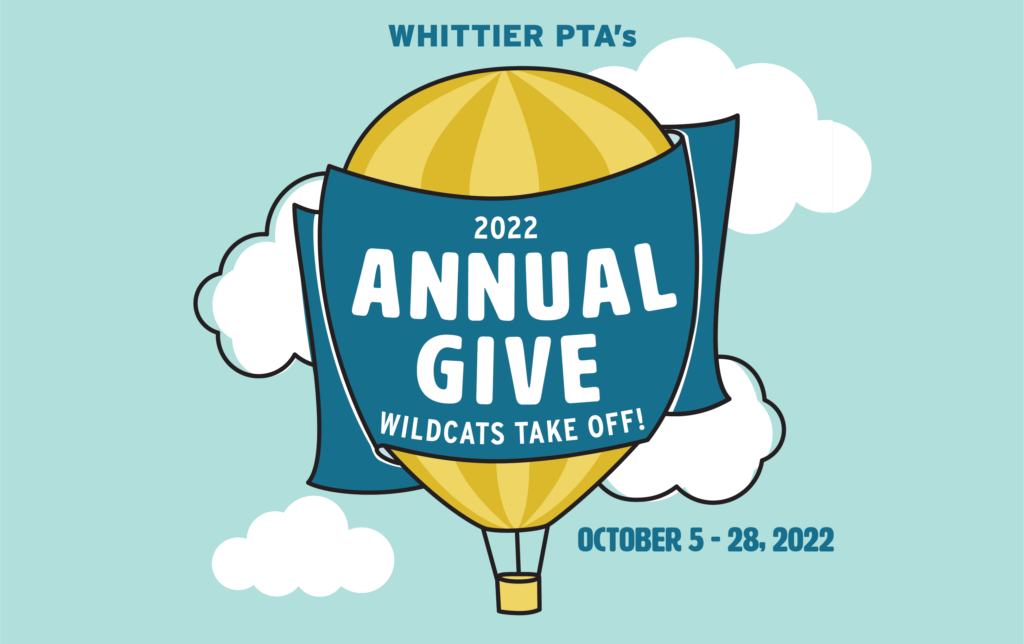 LATEST ANNUAL GIVE UPDATE
Annual Give has been extended for two more weeks! Please help us reach our goal of $90,000 by November 14th!
Every donor to this year's ANNUAL GIVE DRIVE is entered to win two Seahawks tickets! Donations of all sizes are entered and every donation supports Whittier!
As of November 1, we need to raise over $17,000 to meet our Fall Fundraising goal and continue supporting the essential staff and services at our planned level.
Our Goal
This year's "Wildcats Take Off" Annual Give campaign is part of our Fall Fundraising Drive and one of Whittier PTA's three primary fundraisers. To fund the programs and services we're committed to support in 2022-2023, Whittier PTA has set a Fall Fundraising goal, spanning both Annual Give and Move-a-thon, of $90,000. This works out to a suggested donation of $250 per student.
However, we know this is a big ask—please do what is right for your family and know that ALL donations are appreciated. From $10 to $1000, EVERY donation fuels the school; and EVERY student, teacher, and family benefits.
Ways To Donate
By check (made payable to Whittier PTA): attach your check to the "Wildcats Take Off" Response Card and return it in the yellow envelope via KidMail or in the mail slot at the school's front entrance.
Employer Matching: Amplify your gift by participating in your employer's Corporate Matching Program. Don't know if your company offers employer matching? Visit our Employer Matching page to determine next steps.
Families will receive their "Wildcats Take Off" campaign materials via KidMail on Tuesday, October 4. Please submit your donation (online or by check) no later than Friday, October 28th.
All donations are 100% tax deductible (minus the fair market value of any donor gifts received). You will receive a receipt from Whittier PTA after you've submitted your donation.
Level Up!
Pick a gift! As a thank you for supporting Whittier, we're offering the following eco-friendly gifts at each giving level:
$100-$249
$250-$449
$450-$749
$750+
Pack of 2 colorful Swedish dish towels to help you ditch single-use paper towels. "Just one foes the work of 17 paper towel rolls and five kitchen sponges!" Artist design prints make these reusable cloths super effective and fun in the kitchen.
MIR 12oz custom Whittier
Tumbler! Enjoy fall walks with this sharp Wildcat mug that will last for years. MIIR is a Seattle brand that is committed to giving back to communities and the environment.
Made from leftover fabric runs this is the perfect blanket to keep handy for impromptu picnics on damp grass in the PNW. A special thank you to Seattle-based Kavu for making this an accessible gift to Whittier PTA. Please note we will have multiple unique patterns for gifts!
Donors select any two gifts.
** Donor gifts are examples only. Due to supply chain and shipping challenges, actual items may differ from the items pictured. Donors will receive gifts after the campaign ends. Donors receives gift of their donation amount's highest tier.