Whittier PTA Announces 2022 Reflections Art Contest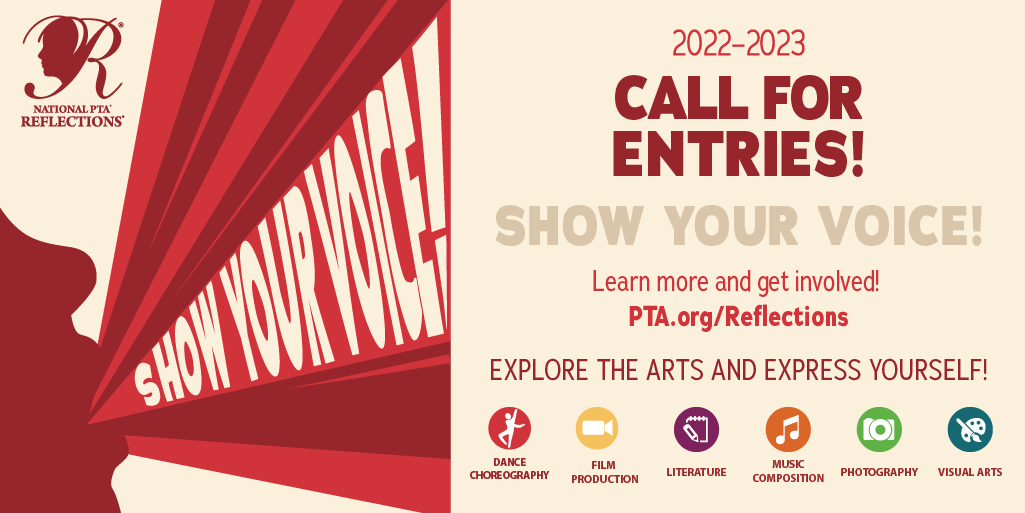 Does your Wildcat enjoy art, music and dance or have an interest in writing, producing films and taking photos? Then join us and have fun unleashing your inner artist with PTA Reflections, a national arts recognition program.
WHAT IS THE REFLECTIONS PROGRAM?
Reflections is a national arts contest. All students are invited to reflect on this year's theme, Show Your Voice. Students create an original piece of art to express themselves and the theme. The works will be judged for prizes and awards. At Whittier, pieces will be displayed in the spring.

HOW DOES A STUDENT PARTICIPATE?
Students submit work in one of six areas. Each area has specific guidelines and a submission form. Forms can be found online at https://bit.ly/whittier-reflections. Look for flyers and announcements through all of Whittier's communication channels. Turn in completed submissions to the front office or upload to https://bit.ly/whittier-reflections-entries by Thursday, November 10th.
Interested in judging submissions from Whittier students? Sign up here! https://bit.ly/whittier-reflections-judge
WHO CAN I CONTACT WITH QUESTIONS?
Find more info at https://www.wastatepta.org/events-programs/reflections/ Whittier's Parent Coordinator is Laura Zingg-Wadsack, elzingg@gmail.com
More from the National PTA Reflections Council
The Reflections Program is a National PTA and Washington State PTA cultural arts competition. The purpose of this program is to provide an opportunity for students to use their creative talents by expressing themselves through their own original works.
Six art areas:
Literature – works of fiction, nonfiction, poetry, prose, drama, short stories and lyrics
Music Composition – original musical composition, with or without words
Photography — color or black and white, including techniques: photo-gram, retouched, montage, sandwich and multiple exposure
Visual Arts — drawing, painting in tempera, oil, acrylic, watercolor, and t-shirt paints, computer generated art, two-dimensional collage, printmaking, needlework, and leather tooling
Film/Video — original works, with or without sound, of animation, narrative, documentary, experimental or music video/film
Choreography/Dance — originally choreographed dance composition
Participation is organized by student age and grade levels. Student works are critiqued against others in the same grade division. This allows recognition and judging of artworks by appropriate developmental age and skill levels. Grade divisions:
Primary: Preschool – Grade 2
Intermediate: Grades 3 – 5
Middle/Junior: Grades 6 – 8
Senior: Grades 9 – 12
AWARDS & PRIZES
Each year, 1,000 student submissions are reviewed at the national level by arts and education experts. Our judges look for personal interpretations on the program theme that best exemplify creativity and technical skill.
Outstanding Interpretation Awards — 1 per arts category and special artist division
An expense-paid trip for student honoree and one adult to showcase work at the National Reflections Celebration
$800 Young Artist Scholarship
Gold medal and certificate
Recognition in the traveling art exhibit and online gallery
$200 Outstanding Local PTA Award
Awards of Excellence — 3 per division of each arts category and 1 special artist of each arts area
$200 Young Artist Scholarship
Silver medal and certificate
Recognition in the traveling art exhibit and online gallery