November 1, 2022
ANNUAL GIVE DRIVE EXTENDED: Help Us Reach our Fall Fundraising Goal!
Thank you, Wildcats for contributing to our Fall Fundraising campaign this year! With both Move-a-thon and Annual Give, we've raised over $70,000 towards our $90,000 Fall Fundraising goal. We're extending our Annual Give Drive through 11/14 and hope to increase family participation to get closer to our goal.
The Whittier PTA has two fundraising periods raise almost 89% of our annual operating budget's planned $146,350 income: Fall Fundraising's Move-a-thon + Annual Give raise 62% and Spring Fling aiming to raise 27%.
Whittier PTA's planned expenses this year clock in at $166,118 (almost $20,000 more than the income we'll raise this year through fundraising). Without the support of our community, we may not be able to fund things to the same levels we have in the past. Your dollars are CRUCIAL to helping support:
School assemblies – The PTA supports a number of these throughout the year (Black Lives Matter, Reptile Man, TapRoot Theater to name a few)
Curriculum supports – The PTA funds a number of applications used in the classroom including IXL Math, Razz Kids and various literacy materials etc
Staffing – A hot button for many, but the simple truth is that without PTA funding our kids would not have access to a specialist (PE, Music or Art) every single day or Ms. Trilby when they need her support
Equity, diversity and inclusion – All of our EDI efforts are 100% PTA funded- Community building events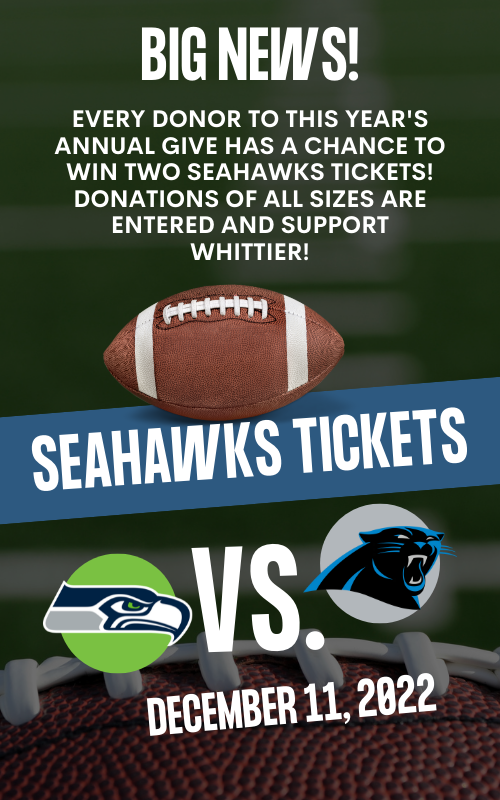 THANK YOU FOR SUPPORTING WHITTIER!
---
Thank You for Joining us at Fall Festival! And THANK YOU to our amazing volunteers!
Thank you to our Whittier families, staff, teachers, and community for joining us to celebrate at our Fall Festival! We were so excited to see our Wildcats spending time together, showing off their creative costumes, and laughing with new and old friends.
An ENORMOUS THANK YOU to the incredible volunteers that made this event happen:
Chairs: Jess Twardzick, TIna Lilley, Melissa Ivancevich and Laura Zingg-Wadsack
Special thanks: Principal Waters and Ms. Leming, Custodian Austin, Mr. Pule, Ms. Steph and Ms. Julia
Day of volunteers: Isaac Osborn, Anjean Vanden Bosch, Jon Overman, Rachel Sidles, Ashley Sullivan, Matthew Sullivan, Katie Kreiger, Jared Cortes, Sandy Hawley, Angie Lundstedt, Jeannie Choi, Amber Campbell, Joni Larson, Claudia Gustafson, Lauren Carey, Maddie Tehrani, Kai Herndon-Farnam, Toby Ross, Emma and Avery Kocher, Devon Wiggins, Sijae Byun, Chad Robertson, Travis Elley, Ben Peterson, Courtney Sievers, Leah Lansberry Austin, Emily Schweiger, Lauren and Kyle Zerbey, Kate and WIll Scales, Larishna Catuncan, Matt Reeve, Malaika Hinshaw, Bree Callahan, Cole Herber, Joel Bendickso, Rebecca Grandi, Annika Hoogestraa, Katherine Roll, Kellie Pecoraro
Cake Walk donations: Melissa Ivancevich, Bryana Patmon, Kim Kocher, Brie Gardner, JoAnn McKimpson, Katherine Abraham, Anna Smith, Michelle Nemeth, Emily Geyer, Nina Rohlich, Leah Lansberry Austin, Tamara Cunitz, Megan Wildenradt, Annika Hoogestraat, Lori Tanzen-Hoy, Laura Zingg-Wadsack, Larishna Catuncan
Want to help with more PTA events and activities? We need volunteers! Please contact volunteers@whittierptaseattle.org to be added to our volunteer list and connected to PTA volunteer opportunities.

---
---
Help Ms. Jo's Fight for a Sensible, Low-Sugar Breakfast!
Ms. Jo, a part of SPS' Culinary Services team, services Wildcats a la carte and entrees options established by the SPS Culinary Services central team. When she realized the chocolate milk included in this year's breakfast included 11 grams of added sugar, she decided to discontinue offering the beverage during breakfast. Unfortunately, this sensible sentiment is not shared by the Culinary Services team; Ms. Jo has been advised she may face disciplinary action if she doesn't continue serving chocolate milk during the breakfast meal service. She testified at last week's school board meeting to raise awareness of this issue, but we need to help support both Ms. Jo and healthier breakfast food options for our Wildcats.
We're asking our Wildcat families to email our school board director (Lisa Rivera Smith), SPS Culinary Services, and use the SPS Let's Talk Form to ask they support Jo-Nell Simonian's, Whittier Elementary Kitchen Manager, choice to eliminate chocolate milk from the a la carte breakfast meal this year.

---
Buddy Bench: What the Equity, Diversity, and Inclusion (EDI) Committee is thinking about
Here are some links to content around Latinx Heritage Month and Dia De Los Muertos Events in the community!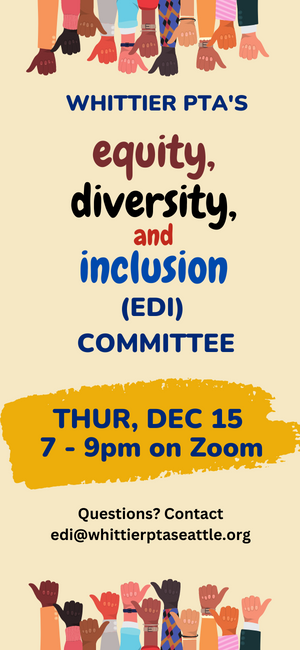 ---
NEW Advocacy Priorities for 2022-2024 – Let's Make Our Voices Heard
Our PTA Advocacy Chairs, Megan Wildenradt and Emily Barbee, were able to attend the WSPTA Legislative Assembly this past weekend. After 9 house of debate, the top 5 WSPTA 2022-2024 Legislative Priorities are as follows:
From the school board, to city council, and the state legislature – work is happening that affects all of us and your voice is needed. We will continue to share information about what is happening that affects children, families, and the school community. View the details of the legislative priorities on the WSPTA website under Focus Areas/Advocacy.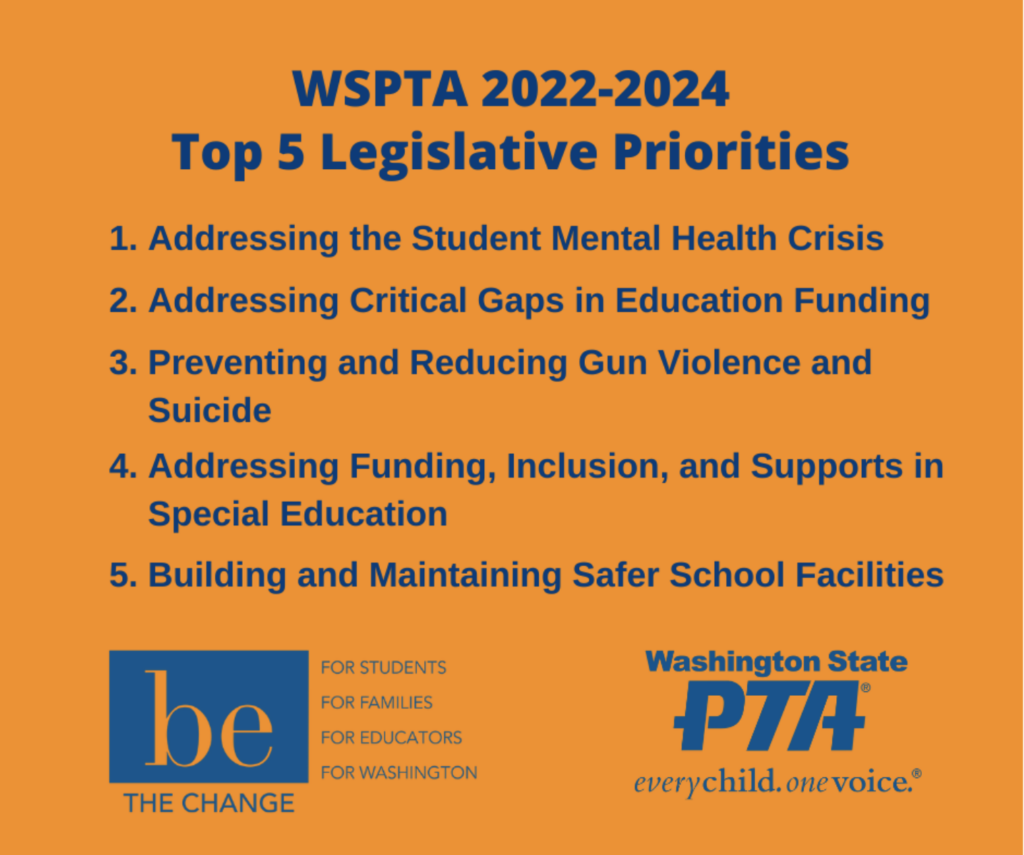 In the meantime, here are two things you can do TODAY:
VOTE – drop or postmark your ballot by November 8th! Visit kingcounty.gov/elections for more information.
Preventing and reducing gun violence and suicide was voted on unanimously by delegates. Find out how candidates measure up for supporting legislation that reduces gun violence by entering your address here.
Want to learn more about PTA advocacy efforts? Contact advocacy@whittierptaseattle.org.
---
November Staff Appreciation – by 4th Grade Families
We are so THANKFUL for our staff! Each month a different grade provides goodies for Staff Appreciation. 4th Grade families are up for November – and we are setting up a hearty autumn lunch, to power the staff though conferences and fill their hearts (and stomachs) before break.
Sign up here! https://www.signupgenius.com/go/10C0E44A8A729A0FAC61-november
Please drop off items to the office by 12pm on Wednesday, Nov. 16th. Let the office know if your items need to be refrigerated. Please clearly label all items "Staff Appreciation for 11/17." Email hospitality@whittierptaseattle.org if you have any questions. THANK YOU!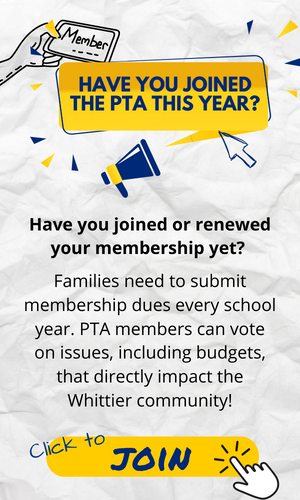 ---
Thank you, Wildcats!