Learn More: What Does the PTA Fund?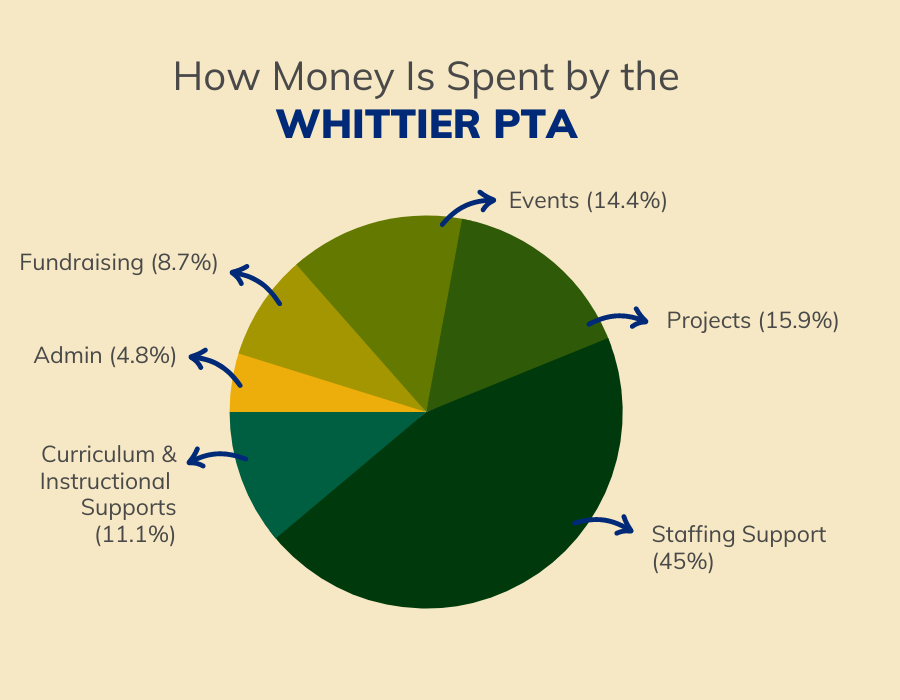 If you're new to understanding the complex funding structure of education (and SPS and Washington State public schools in particular), you may be confused about the PTA's role in "essential staff and services" at Whittier. Learn more about the role PTA funds play in Whittier's annual operations and budgets:
Whittier is the 16th largest elementary school but its discrete budget is ranked 40th out of 63 SPS elementary schools. Whittier PTA helps cover funding gaps.
SPS reduced Whittier's nurse allocation to 1.5 days per week this year (from 2 full days that we extended with additional funds last year). Whittier staff voted to use 32% of their school discretionary budget (intended for supplies like paper and activities like field trips) to increase Nurse Marissa's time another .5 days. Whittier will ask the PTA to help cover discretionary needs this year when they run out of these funds.
Whittier PTA funds and organizes family events and resources, including community events, EDI work, family support services, scholarships, and safety equipment and activities.
SPS funds about 70% of our current Specialist (PE, Performing Arts, Art) schedule. Without additional PTA funding, Wildcats would see Specialists 3-4 days per week instead of daily. Whittier PTA's flexible staffing grant covers .5 Specialist FTE to ensure this happens, regardless of SPS' funding.
Whittier receives 25% of its total Reading Intervention budget from outside sources. As a Tier 4 school, we're ineligible for most SPS or Seattle Levy funding for literacy support beyond our .5 Librarian FTE. PTA Funds allow our Wildcats to work with the incredible Ms. Trilby. Principal Watters uses the PTA's flexible staffing grant to efficiently spread funding and add the remaining 75% of budget needed to ensure Wildcats receive the learning support they need.
Whittier is still missing crucial supports for our Wildcats. Our current .5 FTE Social Worker assignment means students don't have social worker assistance available most school days. We are allocated but won't be assigned a .5 Assistant Principal by SPS, leaving Whittier without a necessary staff member to support special education work, supervision, teacher and staff support needs, and more. PTA offers funding grants to solve year-specific needs to help support our school's needs in-the-moment.
For an amazing overview from Principal Watters of how Whittier's budgets and funding are structured, both year over year and in comparison to other SPS schools, we encourage you to watch this recording of last week's Community Meeting (skip to 12:08 – 35:53). Want to support Whittier PTA's fundraising efforts this year?