December 13, 2022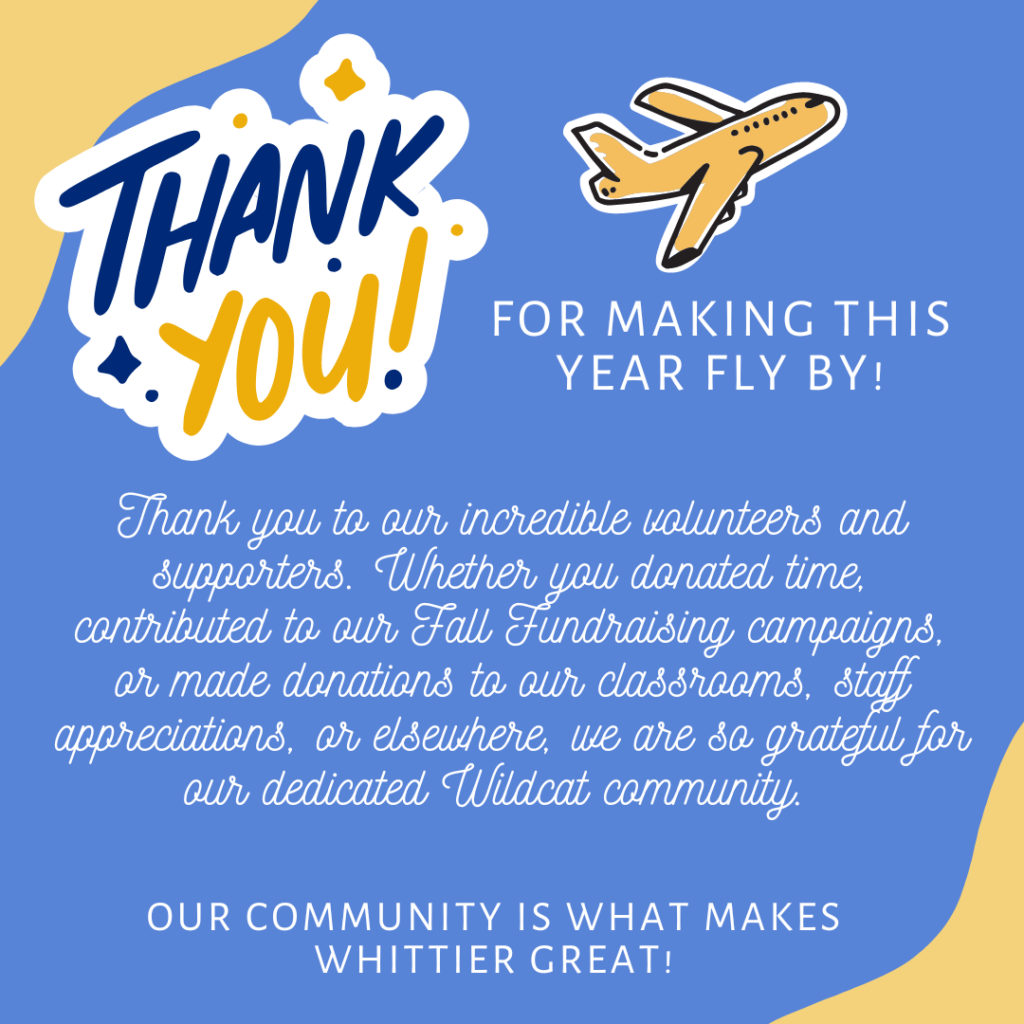 End of 2022 Reminders
Between 12/12-12/16, check the Lost & Found (on racks in the main hallway) and find those hats, gloves, scarves, and lunchboxes (!) that have gotten away!
3rd grade's Staff Appreciation is on 12/15; please drop-off donations before 8am!
12/15 is Ms. Jo Day! Please bring notes of appreciation to say farewell to Ms. Jo!
12/16 is early dismissal (at 1:25pm)
After School Programs survey closes on 12/17
During the break, join Konstella (if you haven't already), join your Wildcat's classroom, and add the PTA events calendar (through Konstella or Google Calendar) so you're in the know when school resumes
School resumes on 1/3/2023
January's PTA Board Meeting is on Tuesday, Jan 10
January's PTA Town Hall Meeting is on Tuesday, Jan 17
---
Next Steps: Addressing and Combatting Gun Violence in Schools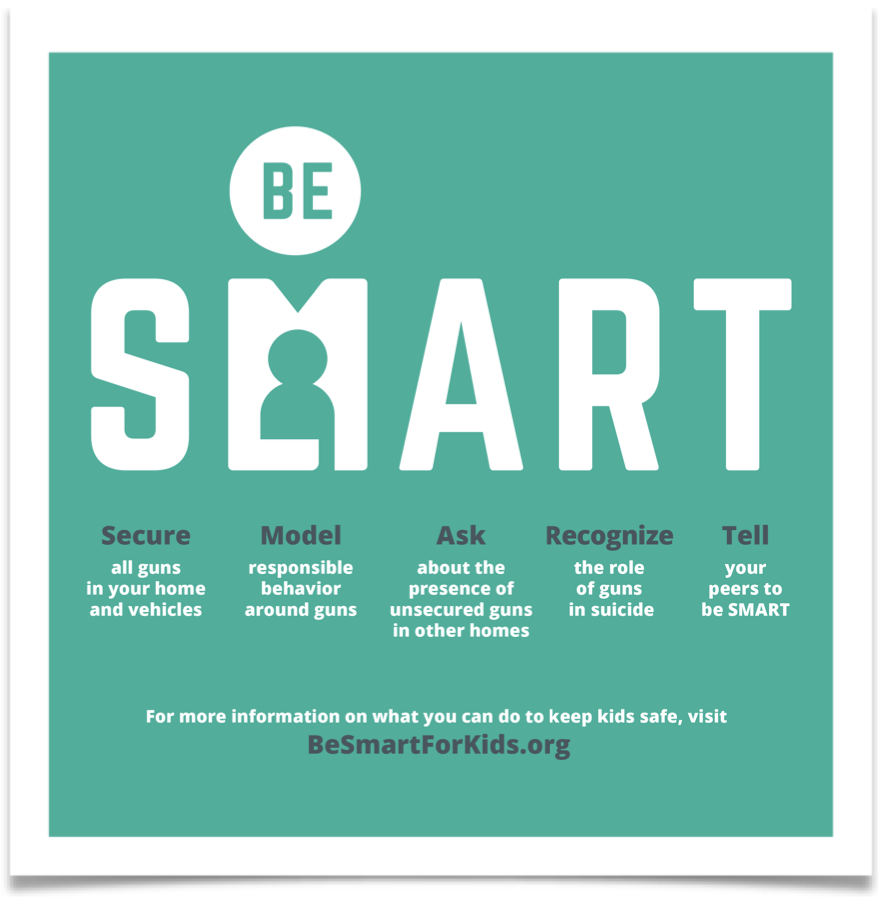 Our community was deeply saddened and scared by the recent gun violence happening within our local schools. The Whittier PTA wanted to reach out to our Whittier community to help then understand what they can do to support safety around firearms and support Moms Demand Action/ Everytown for Gun Safety. At next month's Town Hall, guest speakers from the Be SMART campaign will lead a conversation about kids, guns, and safety and is designed to help parents and other adults prevent child gun deaths and injuries – whether they own guns or not.

---
Thank You, Ms. Jo!
Our AMAZING Ms. Jo is retiring from her position in our cafeteria and her last day is next Friday, December 16. She has served the Whittier community for several years and touched the lives of so many of our scholars, families and staff. To honor her incredible work and commitment to children, food justice and creating a warm and welcoming space for everyone, we will celebrate Ms. Jo Day this Thursday, December 15! We would like to invite scholars and families to write notes of thanks and appreciation to Ms. Jo.
Additionally, we have set up a custom donation page in partnership with the Ballard Food Bank to honor Ms. Jo's strong belief that all people deserve access to safe and healthy food. Ms. Jo is a model to all of us for what it means to fight for food justice. If you would like to contribute to our celebration of Ms. Jo, donations can be made directly to the Ballard Food Bank using this link. https://bit.ly/3Hov3ly
Thank you for being such a special part of the Whittier community, Ms. Jo!
---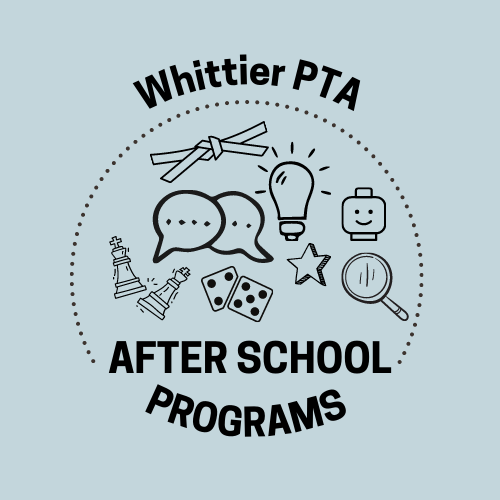 After School Programs Survey
Hello Wildcat Families! We have great news! After School Enrichment Programs will be returning to Whittier! Your PTA is busily getting everything in order, but before vendors are secured, we wanted to give you the opportunity to let us know what programs would best fit your needs. Please take a moment to take this survey and choose two clubs that you would be most interested in: https://docs.google.com/forms/d/e/1FAIpQLSej9MKQKo9Ql_mF5TE0Q1Y-QizngK-ezxO-86avqfv1tKnhzw/viewform
The survey will close on Saturday December 17th.
Although we cannot guarantee that all vendors will be available, we will do our best to offer clubs that most closely fit everyone's preferences. Price and frequency have yet to be determined.
---
Calling All 3rd Grade Families!
Cookies, Cookies and MORE Cookies! Each month a different grade provides goodies for Staff Appreciation. 3rd Grade families are up for December – and we are setting up a festive cookie buffet. SIGN UP HERE: https://www.signupgenius.com/go/10C0E44A8A729A0FAC61-december
Please drop off items to the office by 8am on Thursday, Dec. 15th. Please clearly label all items "Staff Appreciation 12/15." It would be helpful to label the cookie variety, especially if GF/V/DF. Email hospitality@whittierptaseattle.org if you have any questions.
Thank you, HAPPY HOLIDAYS!
Have a gift card to submit for the Helping Hands Drive? Drop it off at the Front Office tomorrow morning and we'll work to get it included in our holiday distribution.

Short on time? You can also make a last-minute donation via PayPal: https://www.paypal.com/paypalme/WhittierPTASeattle
---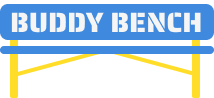 What the EDI Committee is thinking about this week!
Advocacy and Equity, Diversity, and Inclusion at Whittier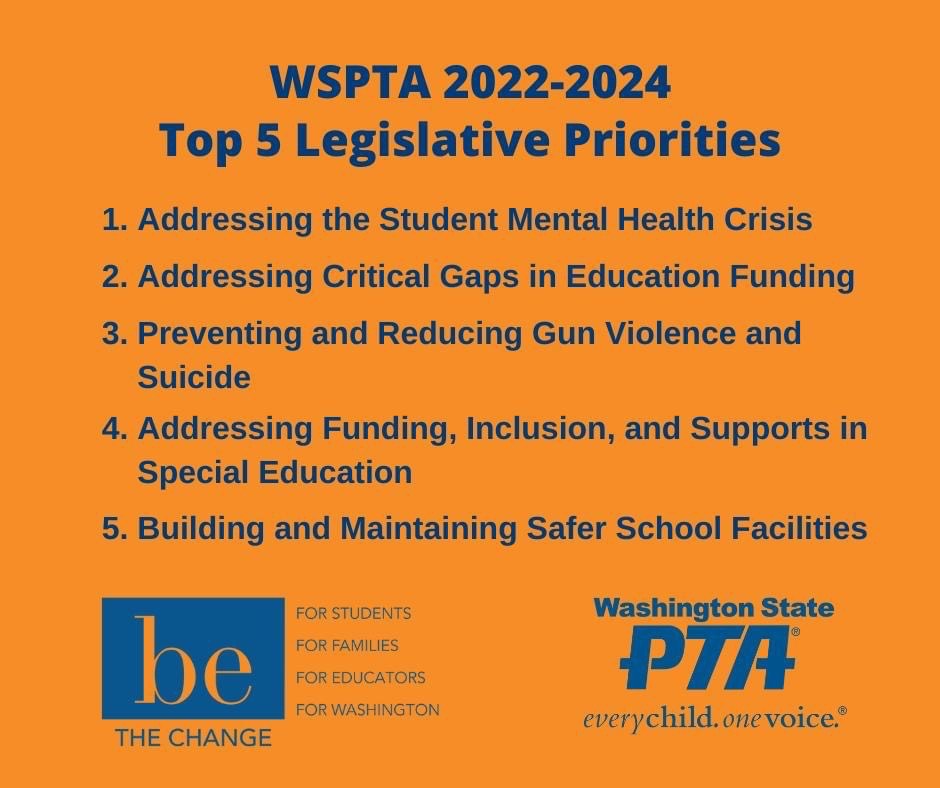 Advocacy: Our goal is to bring you timely opportunities to support policies that improve the quality of our children's health, welfare, safety, and education. We want to make it super easy for you to advocate for EVERY child and make our voices heard collectively. Want to get started?
Sign up for action alerts for up-to-date info on the priorities below!
Join us for our PTA Town Hall on Tuesday, January 17th at 7PM – we'll be joined by Moms Demand Action for a Be SMART conversation about kids, guns, and safety.
Did you know Whittier's PTA has an Equity, Diversity, and Inclusion Committee (EDI)?
What is it? A group to take action on making our school community a more equitable and inclusive place!
When and where do we meet? We meet every other month over Zoom. The next meeting is on Wednesday, December 14th at 7pm! Visit whittierptaseattle.org to join a meeting.
Why get involved? If not YOU, then WHO? Our students deserve to learn in the most inclusive environment possible and be a part of a community working for equity.
Who can join? Any caregiver of a Whittier student-no experience necessary!
EDI Committee GOALS for this year:
Whittier is Committed to being an anti-racist community.
Whittier is a community where ALL children and families are supported to be their authentic selves
All families know the system well enough to navigate and advocate for their children's needs.
---
Want to make an impact in the community? Consider supporting these businesses and organizations this holiday season!
---
Affinity Groups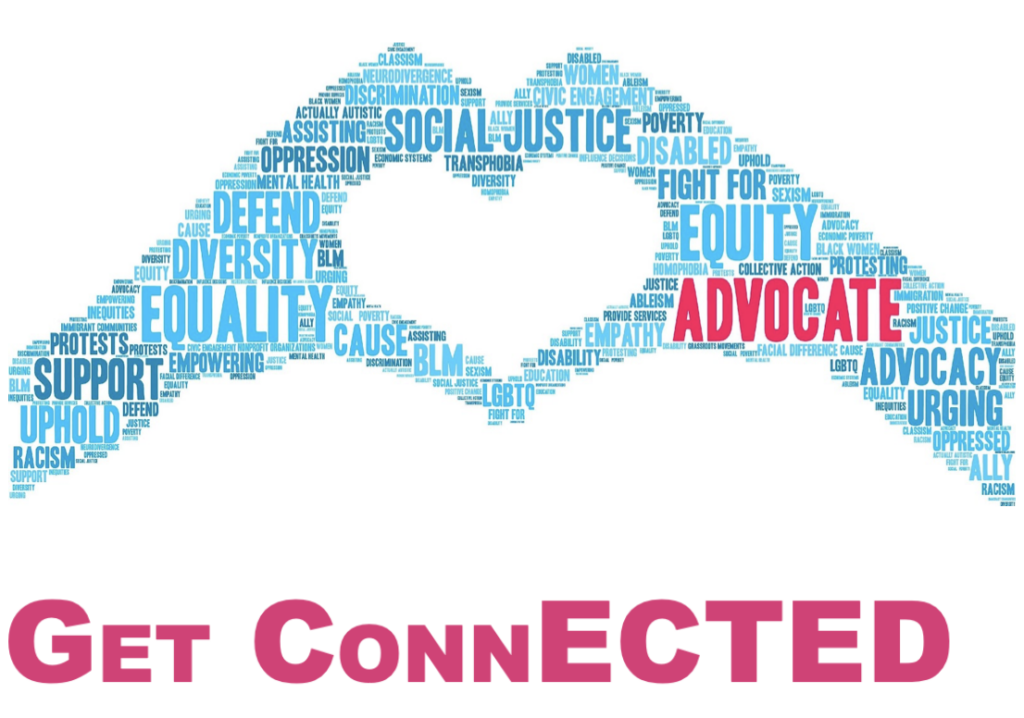 Affinity Groups:
LGBTQI+
Neurodivergent
Multiracial/Multicultural
Create a group for a community not yet listed!
Play a vital role in ensuring an inclusive school environment where all are valued, included, and empowered to succeed.Piloted last year, we are expanding the affinity groups offered based on community feedback. Help us get these started by completing this 1 minute survey.
---
Reflections Art Contest Update

Congratulations to all of the students who participated in this year's Reflections Arts program! This year's theme was "Show Your Voice" and Whittier had 11 entries in three categories. We are thrilled to announce that fourth-grader Vivienne Robertson's film, "The Bob Movie" will advance to the Washington State PTSA Reflections competition this spring! Keep an eye out in January for a link to an online gallery of all student submissions. Student artwork will be on display at Whittier this spring. Congratulations, Vivienne! And huge round of applause for all of our young artists for sharing your courageous creativity! Read more about this year's entries from Whittier students here: https://drive.google.com/file/d/1TOKA4eEPcAi5zdhyxtfndRjBOG7oJ_Bq/view?usp=sharing
---
Spring Lacrosse Registration is open!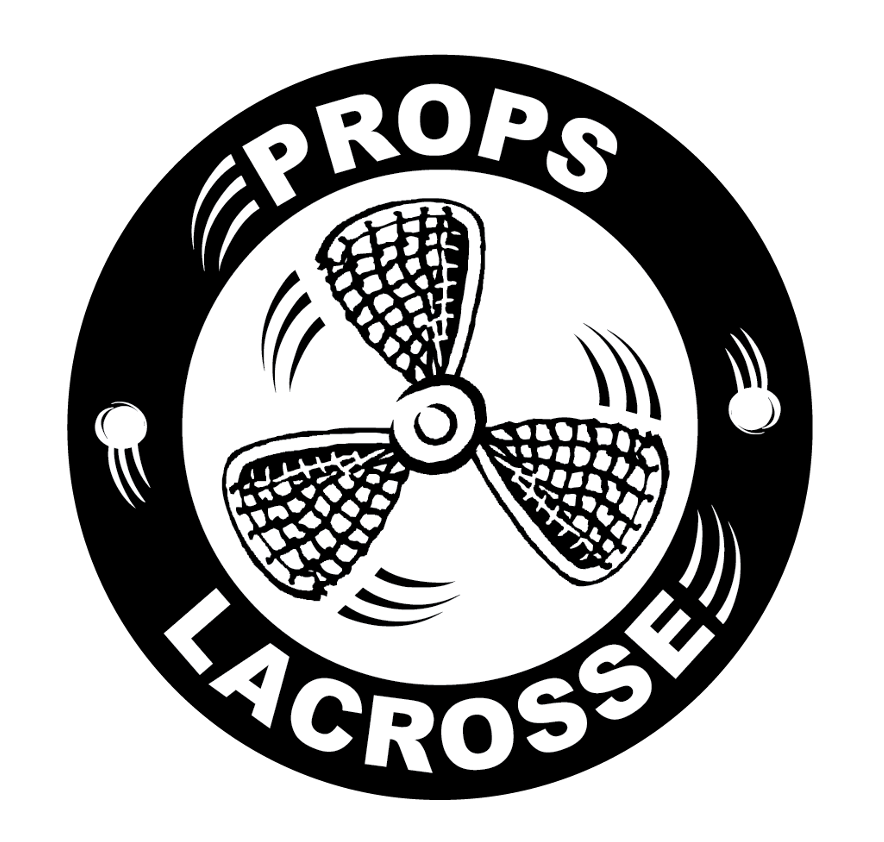 Props Lacrosse is open to all grades 3-8 in the Ballard/ Ingraham/ Nathan Hale catchment zones for recreational lacrosse for the Spring 2023 Season. We welcome all players but adhere to the boys' rules & equipment. We are a volunteer run rec-program that is committed to being a supportive environment for all our boys. Our emphasis is on good sportsmanship, effort and fun. All new and returning players are welcome. No prior experience necessary, regardless of age. We offer financial aid for the program which can include dues/ uniform and loaner equipment for first time players. We are committed to making sure any boys who want to play with us have the opportunity.
Lacrosse is one of the fastest growing sports in America, and Seattle. It is a great sport from a young age, physical contact is limited to age-appropriate levels throughout the program. The sport involves running, agility and hand-eye coordination. It's very exciting to watch and play! Practices start in February and are twice a week at Whitman Middle School or Loyal Heights Playfield. Games begin in March on Saturdays. Registration is open until practices begin. For more information, please visit the club page: http://www.propslacrosse.org/
If you have any questions about our lacrosse program, please feel free to reach out to the club directly via email (propslacrosse@outlook.com) or inquire in the 'contact' page on our website.
---
Holiday Happenings
For Wildcats wanting to get into the festive spirit:
Have a great winter break, Wildcats!
---
Guess What's Back? (Back Again)
SPS is re-introducing a transportation proposal for 2023-2024 that includes the possibility of changing to a 3-tiered bell schedule at the next School Board meeting (tomorrow, 12/14) during its Transportation Work Session (page 5 and 26). If you're new to the district, last April SPS proposed changing the current district school start and end times from its current 2-tiered system to a 3-tiered system, with some elementary schools starting at 7:30am, some elementary and middle schools starting at 8:30am, and high schools starting at 9:30am. It was abandoned last year after public comment against the change. If you want to share your voice about this change, you can contact your School Board Director, SPS directly using the "Let's Talk" feature, or sign up to provide public testimony at tomorrow's School Board meeting.
---
Thank you, Wildcats!