April 18, 2023
Back to Reality: Post-Spring Break Updates & Reminders
Thank you to everyone who participated in Prides of March! In addition to serving our Ballard Health, Luther Memorial let us know that Whittier's donations will help their community fed for 2 months. Go Wildcats!
It's Bike Unit at Mr. Pule's PE Palace!

Students may bring their own helmet and their own bike (please label!) which can be stored at the gym during their PE week. School bicycles and helmets are also available.
Is your Wildcat a Rusty Rider/Learner and looking for extra practice? Mr. Pule is offering bike practice sessions after school between 2:40-3:15pm today (4/18), Thursday (4/20), 4/25, 4/27, 5/2, and 5/4. Students should bring their own helmets and parent supervision required during the session.
Want to have your Wildcat's bike have a look over? Whittier students receive a free safety check (air tires, minor gear, and brake adjustment) at JRA Bike Shop between April 1 – May 5. Please plan 1-2 days ahead for this check-up. Any additional required work will be 10% off, along with helmets. This shop is also owned by a former Whittier parent!

After School Enrichment Programs are full for the Spring quarter but, we still need volunteers to make these programs happen! This includes our Vendor Supervisor role: an on-site volunteer who is on-call should any program vendor have a question or need assistance while programs are running. This is the perfect role for someone with a younger child they'd need to bring along or wants some independent time after school one day! For more info, please contact programs@whittierptaseattle.org or to sign-up, visit https://www.signupgenius.com/go/10c0945aaab2aa2f4c52-volunteer#/.
Today marks the start of Clay Days with Mr. Buck! He's seeking volunteers Tuesdays-Thursdays during art rotations April 18-20 (B), April 25-27 (C), and May 2-4 (A). Email Mr. Buck to volunteer or for more info!
It's time to order your yearbook! The 2022-2023 Whittier Elementary yearbook is a full-color book of special memories of students and staff. Order your copy now through May 15, 2023! The books will be shipped to the school in mid-June and cost $20 per book. To order, visit: https://shop.yearbookmarket.com/whittierelementaryseattle
Reminder: Lost & Found racks can be found right inside the front doors. Have your students check the racks for lost items (especially hats and gloves!) as the seasons start changing.
Are you a Kinder family? Reminder that this month's Soup and Salad Staff Appreciation lunch is hosted by K families this month! We are still in need of K families to sign-up to bring soup, salad, and other items to the main office by 8am this Thursday, April 20. Please sign up here! Questions? Please contact hospitality@whittierptaseattle.org.
Join us for our PTA Board Meeting today! Click the link in the ad below to join the Zoom meeting at 7pm tonight. All are welcome and encouraged to attend!
Buy your Spring Fling Ticket! Learn more about this amazing event below and get ready to take-off on May 20!
---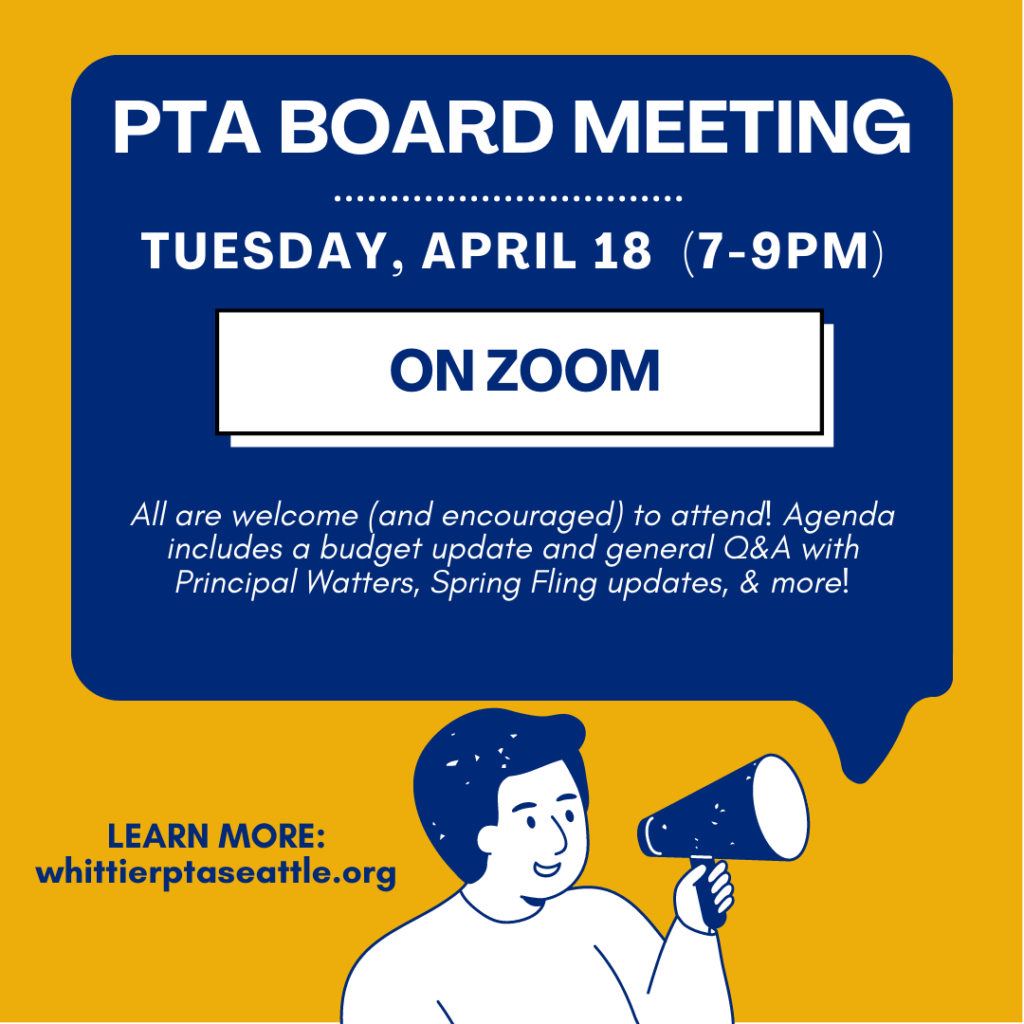 Searching for Whittier Spirit Gear?
Whittier Spirit Gear is always available in a ton of styles at our Bonfire online store: https://www.bonfire.com/store/whittier-elementary-spirit-gear/
Styles include paw print, Wildcat profile, and "Class of" designs.

---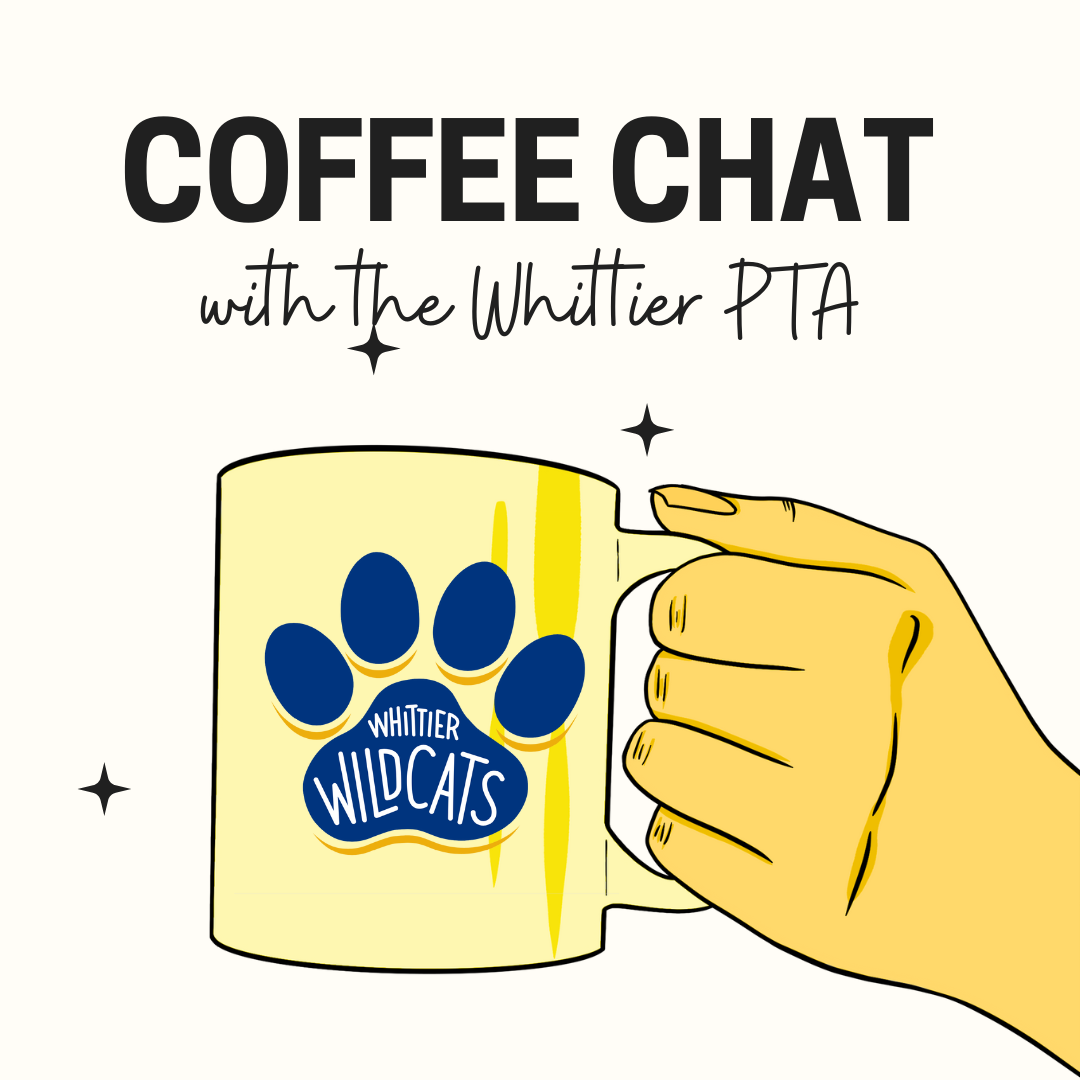 Enjoy a cup of coffee on us! Stop by the library right after drop-off on April 21st for a casual hang with some PTA members. Great way to learn how you can get involved or share your ideas for community building with us. Got questions? Email Outreach@whittierptaseattle.org.
---


Get Excited for Our Silent Auction!
Our procurement team has been working hard to deliver an amazing auction catalog this year that will be available for bidding during Spring Fling! Here are some highlights so far: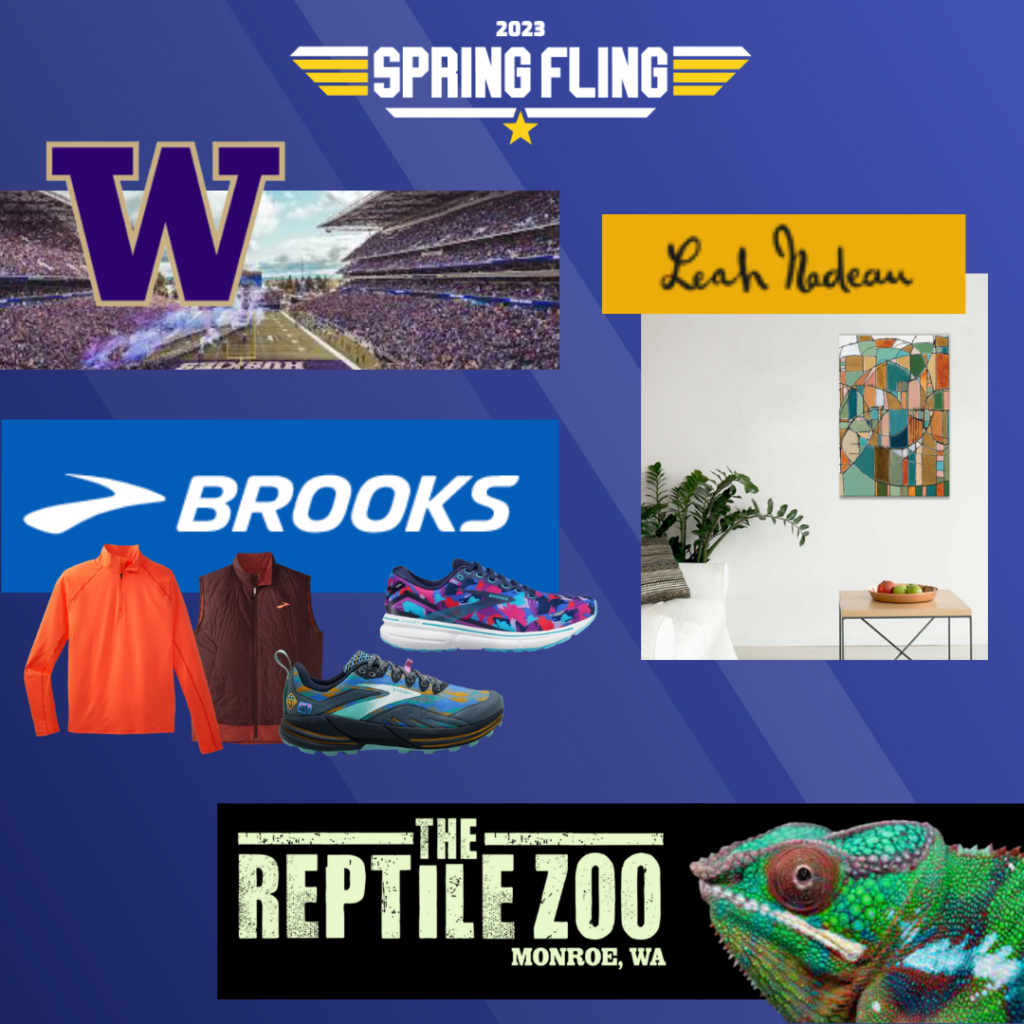 Club Husky Tickets to the Apple Cup + Parking Pass: The Apple Cup is back at Husky Stadium this year on Saturday, November 25th (time: TBA). This is a big rivalry game between the University of Washington & Washington State University! You can bid on 4 Club Husky tickets + a Parking Pass (Padelford lot)
Art by Local Artists, including Leah Nadeau!
Brooks is Back: Get your spring self ready with Brooks gift cards in the auction again this year!
Reptile Zoo Experience: Did your family love Reptile Man? Win 4 tickets to Reptile Zoo to see those amazing critters close up for a fun family day trip!
Psst–it's not too late to donate! Auction donations are due May 5. Submit one today!

---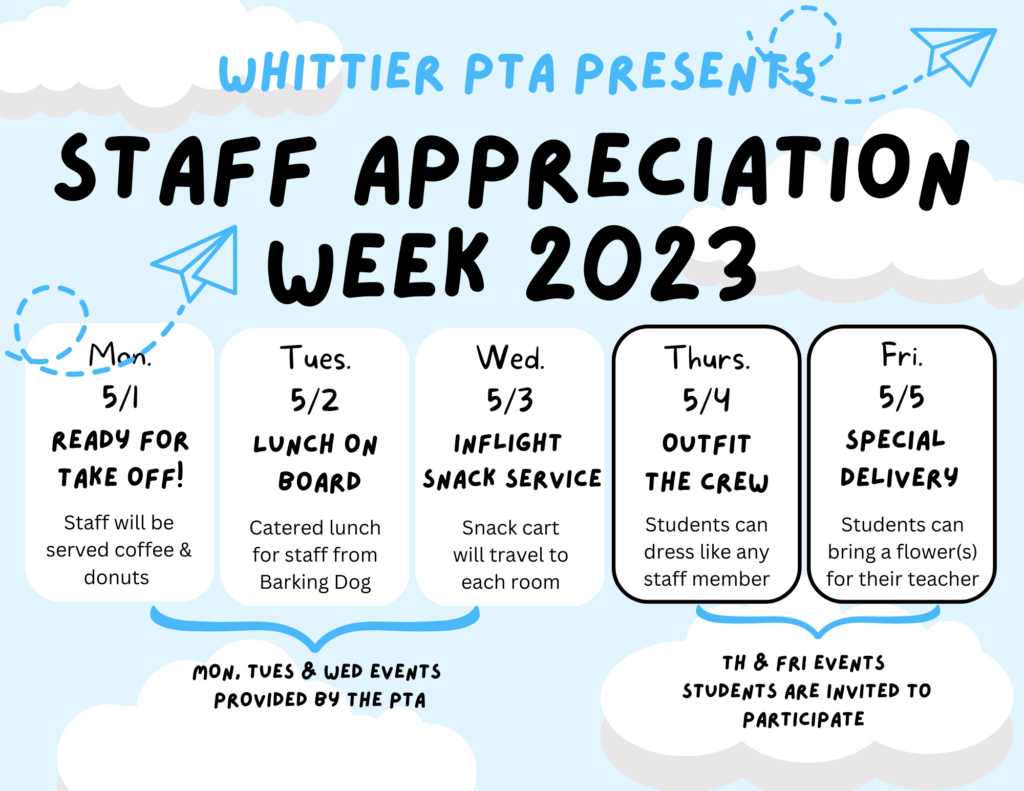 Whittier PTA Presents
Staff Appreciation Week 2023 – May 1st – 5th
We've been GEARING UP all year for this! The first week in May is National Staff Appreciation Week, and the Hospitality Team plans to shower our staff with gratitude each day! M/T/W events are hosted by the PTA, and TH/FRI events invite the students to participate.
Monday, May 1st Ready for Take Off Coffee and Donuts will be served to staff in the morning.
Tuesday, May 2nd Lunch on Board Catered lunch from Barking Dog will be served to staff in the lounge.
Wednesday, May 3rd In Flight Snack Service A snack cart will make its way through the halls, delivering refreshments to our staff.
Thursday, May 4th Outfit the Crew Wildcats are invited to dress like any staff member: Mr. Ogle's signature tie? Bunny ears for Ms. Childers's lops? A Hawaiian shirt to be a mini Mr. Pule? Have fun!
Friday, May 5th Special Delivery Wildcats are invited to bring a flower(s) to school, from your garden or the grocery store, which will be collected at the gate in the morning and put into vases for all of our teachers.
Email hospitality@whittierptaseattle.org with any questions!
---
Golden Acorn Award Nominations – DEADLINE May 5th
This award recognizes volunteers who have given outstanding service to children in the Whittier community. The recipient(s) of this award will receive loads of Wildcat appreciation, a Golden Acorn pin, special recognition at a General PTA meeting, a contribution in their name to the Washington State PTA Financial Grant Program, and their name engraved on the Golden Acorn plaque in the lobby.
Please help us recognize and reward the amazing individuals within our school and community who meet the criteria for this award. Email your nomination along with a brief explanation of why your nominee deserves this recognition by May 5th, 2023 to president@whittierptaseattle.org.
---
A note for our 5th Graders/Incoming Whitman 6th graders!
Thursday, April 20th, incoming 6th graders will be able to register online for their electives. Instructions on how to register online through your student's SOURCE account can be found on the Whitman Website 6th Grade Registration page. Online elective registration will be open from Thursday, April 20th – Sunday April 30th and will close at 9pm. If you have any questions, please e-mail Elaine Way, Registrar at elway@seattleschools.org.
---

---
Thank you, Wildcats!