Welcome Back, Wildcats!
Important To Dos for New & Returning Wildcats
Create your Paypams account to pay for lunch, if needed. (You'll need a Student ID number to set-up an account; you can find your student's ID number on The Source. Learn more about meals at Whittier this year.)
Breakfast and lunch menus will be posted regularly here. Check out September's menu and this year's a la carte menu.
Lost items? Lost & Found rack can be found outside the gym doors daily (for students). Parents can also check out the rack on Fridays at pick-up (sometimes outside the main entrance).
Class Communication – In addition to emails from teachers, each class has 1-2 Room Reps to help share class news and info. Want to become a Room Rep? Email volunteers@whittierptaseattle.org with your name and classroom teacher to sign-up or learn more.
Join Konstella and/or make sure your child has been added to their classroom. Yes, yes sign-up or login to this platform that's basically announcements/event info/family directory. Use default notification settings so all important announcements, news, messages, and events are emailed to you (so you can avoid logging in, if that's your style). And visit the "Calendar" page to subscribe so all event information is connected to your native Calendar system. Then you can just check in if you want to reference the digital family directory or social forums. Learn more about Konstella, including step by step instructions for adding them to their classroom.
Become an approved SPS volunteer (if you're not already) so you're ready to volunteer during school hours. If you've been an approved SPS volunteer in the past, you're usually approved for two years. Sign into the SPS volunteer portal to see your current status and contact Monica with any questions.
Look for emails from teachers with links to Amazon Wish Lists for helpful items to support your classroom or shop these Wish Lists to support Nurse Marissa and the Front Office.
Fall's Main Events
(Want to automatically add these events to your digital calendar? Subscribe on Konstella or our website.)
---
We Need Volunteers!
Our incredible work can't be accomplished without Whittier volunteers. We have several key PTA positions and committees seeking volunteers in order to make this year's planned events and support schedule a reality, including:
Co-President
Vice President
Programs Chair
Communications Co-Chair
Reflections Art Contest Chair
Classroom/Room Reps (2 per class)
Reflections committee members
Fall Carnival committee members
Membership committee members
Volunteering can span any level of commitment or skill set; we have all kinds of positions available. If you've submitted a volunteer interest survey in the past, please contact us to let us know you're still interested and, if so, what kind of volunteer position or commitment you're looking for. WE NEED YOU, WILDCATS!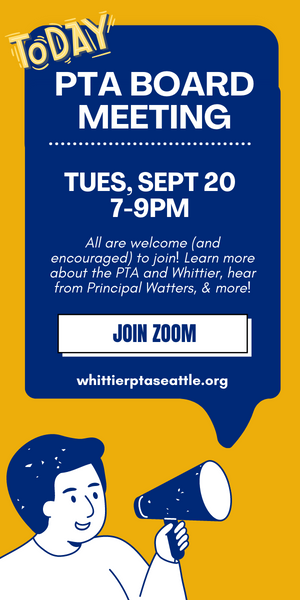 Renew Your PTA Membership (or Join for the First Time!)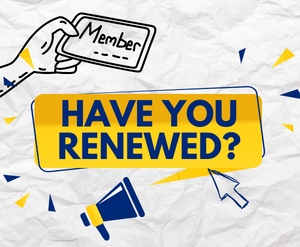 All PTA members have to renew their memberships at the beginning of each school year! PTA members can vote during board meetings which impacts PTA budgets, priorities, and more. Learn more about membership and renewals. Questions? Contact membership@whittierptaseattle.org.
---
Announcing Our Fall Fundraising Drives: Annual Give & Move-a-thon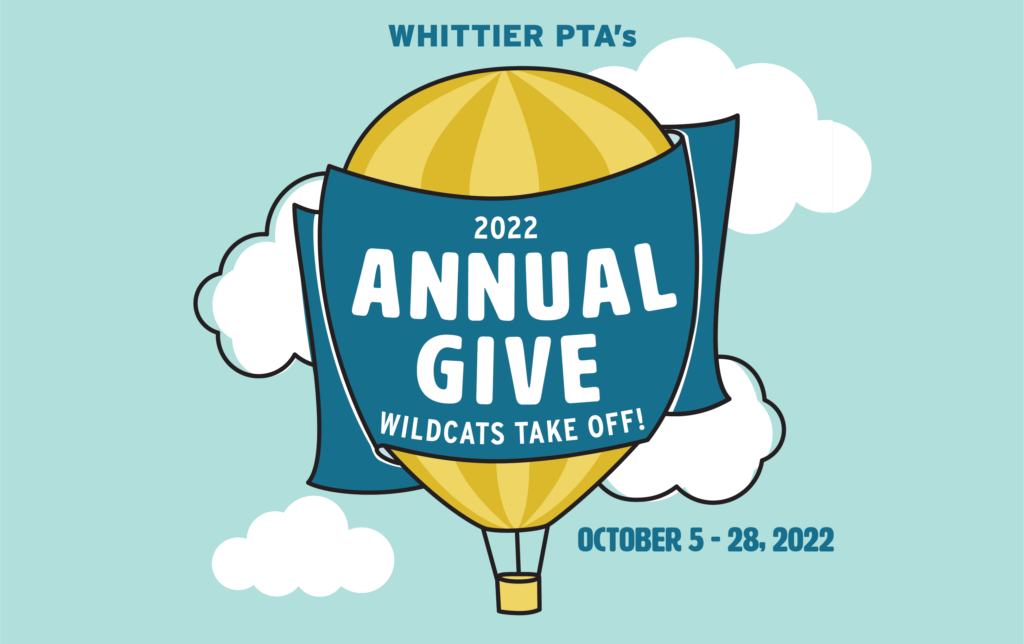 It's time to kick off another year of FUNdraising! The Whittier PTA aims to raise $130,000 this year to support its operating budget that provides essential staff and services, community events, and more for the Whittier community. As a registered 501(c)3 non-profit, the Whittier PTA aims to only raise what's needed to fund its budgeted commitments, including flexible staffing grants we commit to the prior school year.
This year, fundraising is split into two main funding periods: Fall (Annual Give, Move-a-thon), where we'll aim to raise $90,000, and Spring (Spring Fling Block Party & Auction) with a $40,000 fundraising goal. Annual Give is an opportunity for families to directly donate while Move-a-thon's per lap donations are easily made on behalf of families by their supportive community.
Annual Give, kicking off 10/5 alongside our Pints for Purpose event, is an opportunity for each family to give donations of any size to help support your Whittier community. Help meet our $250 per student Fall Fundraising goal through online donations and employer matching. Families can receive thank you gifts for their donations. Learn more about Annual Give, thank you gifts, and make donations on our Annual Give page.
We know there are a lot of opportunities to give your family might be considering this Fall. Learn more about what the PTA funds and why you might want to choose the Whittier PTA for your gifting. If you'd like to have a voice in the PTA's budget priorities, please join us and attend upcoming PTA board meetings to make your voice heard. We'd love to have you!

---
What does the Whittier PTA do?
Through fundraising and the help of parent volunteers, the PTA provides school grants, outreach, organizes special events and activities, hosts parent education events, plans and coordinates teacher appreciation activities, and supports enrichment opportunities for all students. This means our scholars have more time with specialists, our community can be more connected, and we can support the needs of our students and community in ways we couldn't otherwise. The Whittier PTA is a registered 501(c)3 non-profit (Federal ID #91-1479413).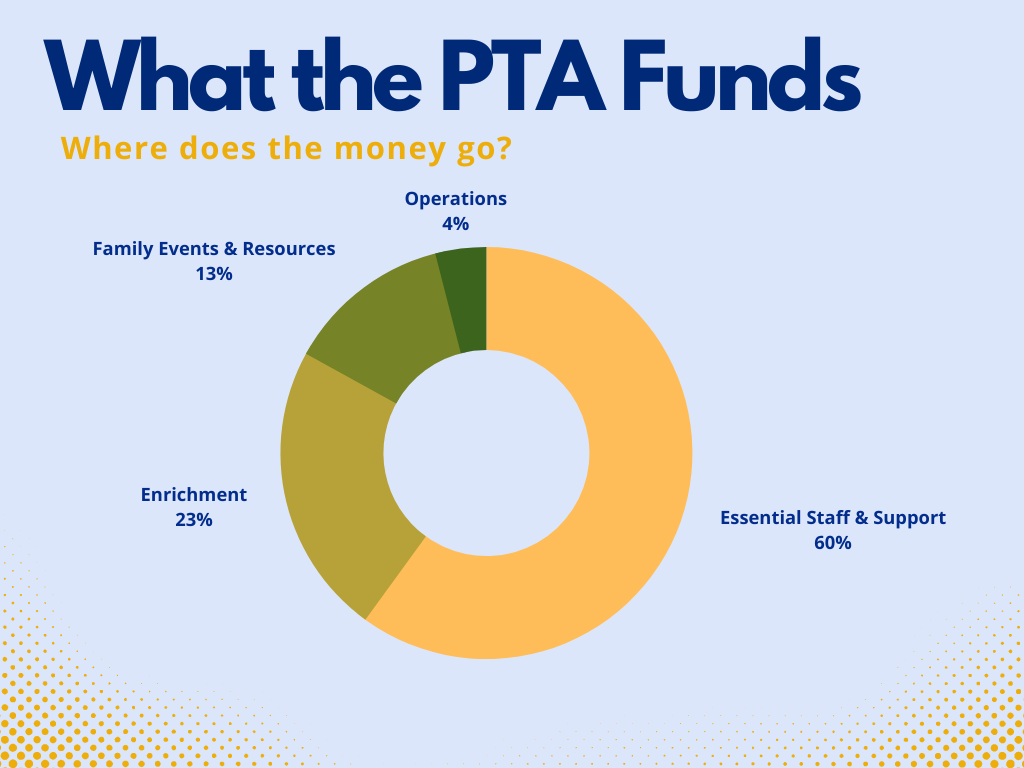 Your contributions fund many programs and services THIS YEAR:
Essential Staff Positions & Support (60%)

Time with Key Support Staff and Specialists
Professional Development
Staff Appreciation

Enrichment (23%)

Grade-Level Curriculum Enrichment
Library Books and Supplies
Guest Artists and Authors
Funding Proposals
Reflections Art Contest
Global Reading Challenge
Family Events and Resources (13%)

Community Engagement
Equity, Diversity, & Inclusion Committee
Scholarships
Family Communications Platform
Family Support Services
Safety

Operations Costs (4%)

Insurance
Bank and Licensing Fees
General Supplies and Printing
Accounting Software
---
Teachers' Lounge Makeover
A million thanks and kudos to the F.A.C.E. (Family and Community Engagement) committee for their incredible work to makeover the Teacher's Lounge to benefit our teachers and staff.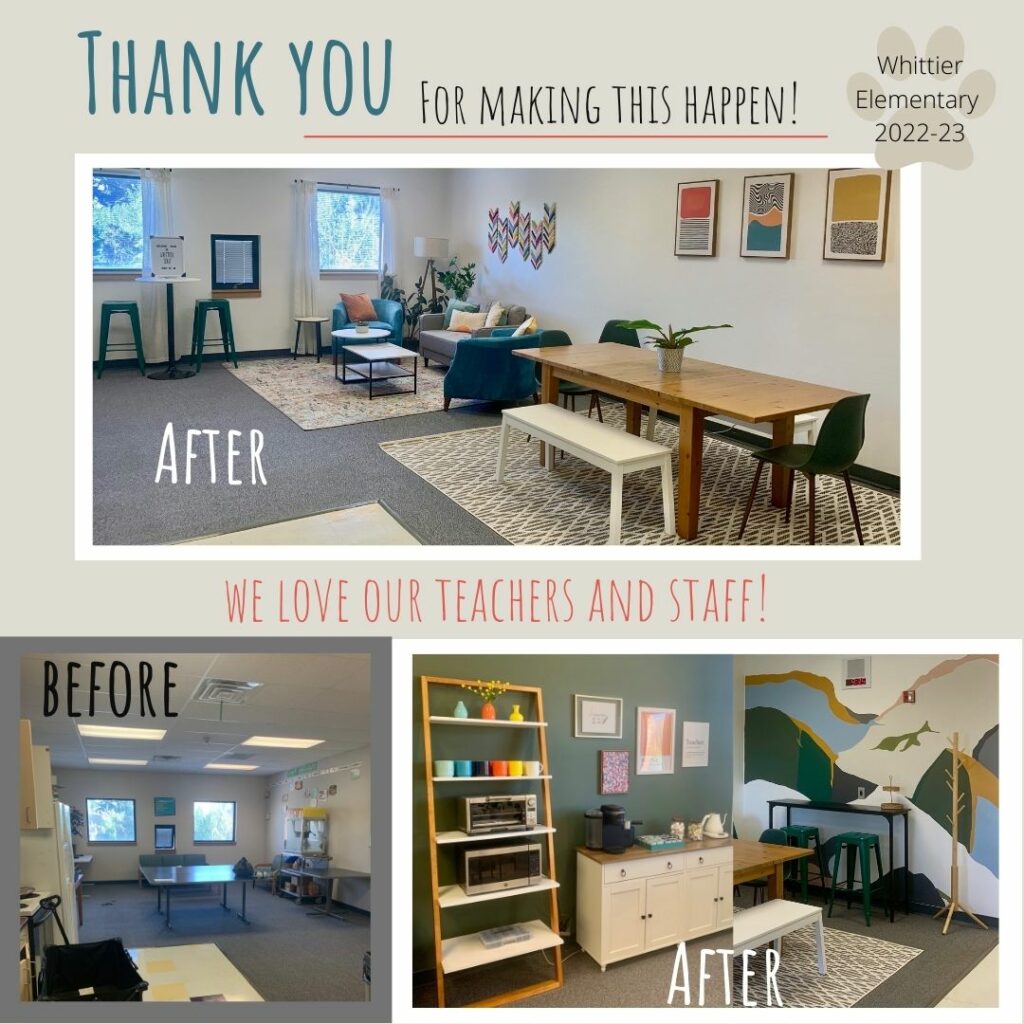 Paws Up for a Cooler Fence!
After months of planning and ordering and hours of pushing, hammering, and installing, both the 13th and 14th Ave NW fences have been beautified! We hope families enjoy the colorful cup design as much as we do!
Special thanks to Tina Lilley, Jess Twardzik, Megan Wildenradt, Kate Scher, and others who contributed to this project.
---
"Undoing Racism and Teaching Equity to Our Children"
On Tuesday evening September 13th the Whittier PTA attending a training led by Families of Color Seattle (FOCS) entitled, "Undoing Racism and Teaching Equity to Our Children."
The training focused on the history of systemic racism and discussed how it affects our lives today. Participants had a chance to learn, discuss and reflect on race, systemic racism, privilege, and how our own upbringings have shaped our views around racism. The Whittier PTA will continue to learn about and discuss the topic of racial inequity and how it shows up in our community, continue to work to address specific goals that pertain to this topic, and hope to offer more workshops and trainings for the community this school year. Some takeaways we'd like to share from this training:
Want to get involved? Contact our EDI (Equity, Diversity, & Inclusion) Committee!
---
How Communication Works at Whittier
Whether you're a seasoned Whittier veteran or a new family navigating the wheres, how's, and what's of school communication channels, it can be challenging. Here's a summary of where to get updates and how to make sure you're subscribed in the right spots.
WHITTIER NEWS
Whittier families, students, teachers, and staff stay connected and build community through a network of communication channels:
Whittier Elementary Website – evergreen info and official school calendar
Whittier PTA Website – upcoming events, announcements, meal menus, and more
Texts from the Front Office – time-sensitive announcements and reminders
Emails from Principal Watters – generally on Mondays, these are important sources of official school info and happenings
Wildchat Newsletter – emailed every other Tuesday, this newsletter wraps up SPS, Whittier official, PTA, and community info
Takehome Tuesday/KidMail flyers – paper flyers placed in take-home folders occasionally
Konstella – online community forum (see "Primer" article for more)
Whittier PTA Instagram/Facebook – this info overlaps with Konstella content, but can be helpful as a place for reminders (if you need them)
Grade-level Facebook Groups – informal community discussions specific to your Whittier student's grade level
Updates from the Nurse Marissa – website with evergreen and health-related updates specific to our school nurse and community
FROM YOUR TEACHER(S)
Email and/or text messages – Teachers will identify their preferred communication method, but some use email and experiment with a new platform allowing them to text directly
The Source – SPS' platform to share student attendance, assessment scores, Elementary Progress Reports, Schoology Access Codes and other information.
Schoology – a place for teacher's to share and receive assignments and communicate about classwork
FROM SPS
Emails, phone calls, and text messages – all caregivers of registered students receive emails (generally from publicaffairs@seattleschools.org) and phone calls/texts using contact info provided at registration
SPS website – evergreen district-wide info, including information about school meal accounts
Covid-19 updates – SPS is currently updating its dashboard platform, but says it will be available soon
District School Board Directors can be great sources of news and information. Ours is Lisa Rivera Smith and another useful member to follow is Vivian Song Maritz.
What is this thing? A Konstella Primer
Konstella is the platform we use to create classroom-specific forums, an opt-in digital family directory, an events calendar, and circulate announcements to the Whittier community. It's available on desktop or a mobile app, which you can choose to visit never (and sign up for email notifications and subscribe to our calendar) or whenever. If you're new to Konstella (or signed up for it years ago and haven't used it since), here are some basics:
Classrooms: When you sign-up for Konstella, you're asked to join a classroom. If you've signed up in the past, you'll need to add your child to their classroom this year. Once you're part of a Classroom, you can message other families in your classroom. This might be where your Classroom Reps message you about volunteer opportunities, teacher gifts, and other stuff.
Calendar: This is updated to contain the most current event set for the year. It's linked to the PTA Google Calendar, so if you subscribe to either calendar, you won't miss out on anything.
Announcements: Both event listings and general announcements will show up on your "Feed." When you sign-up, you can choose to have these announcements sent to your inbox so you don't have to login to see what you've missed.
Directory: Search for a specific user or browse family info by classrooms. This is the info you've allowed to be visible when you signed up for Konstella (and can always be modified in your settings).
Want more help? Check out our full Konstella guide.
---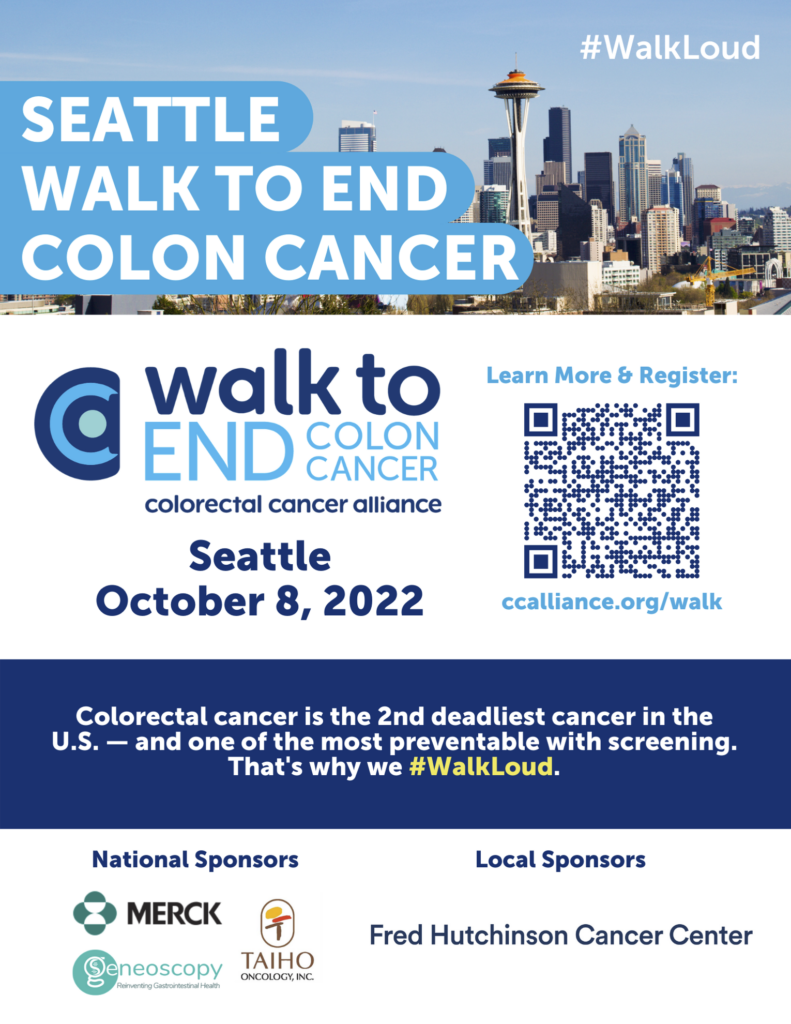 ---
Thank You, Wildcats!