This year's "Wildcats Shine" Annual Give campaign is part of our Fall Fundraising Drive and one of Whittier PTA's three primary fundraisers. To fund the programs and services we're committed to support, Whittier PTA has set a Fall Fundraising goal of $80,000. This works out to a suggested donation of $250 per student.
However, we know this is a big ask—please do what is right for your family and know that ALL donations are appreciated. From $10 to $1000, EVERY donation fuels the school; and EVERY student, teacher, and family benefits.
In addition to the financial support, we are asking each family to sign up for one volunteer opportunity this year. On the annual give donation page, there is a drop-down menu to choose what event works best for you to volunteer at this year.
Please make your one-time or recurring donation here by October 28th. Learn more about how to make a donation via cash or check and the importance of participating in any Employer Matching programs.
As a thank you, the Whittier PTA will work with our amazing Whittier teachers and staff to have a school party when we hit our $80,000 fundraising goal. More details to come!
Our Whittier community is amazing because of YOU. Please consider making a contribution and difference for our Wildcats. Paws up!
Raise Your Hand to Volunteer!
Come have some fun this Fall! We're looking for some volunteers to help make our upcoming Fall Festival and other events this year happen.
Fall Festival needs LOTS of volunteers, including activity leads and day-of volunteers for this completely fun community event. Activity leads attend the event plus one evening meeting on 10/24; all other volunteers are just day-of. Learn more and sign-up!
Fall Festival is also looking for families to donate desserts for our Cake Walk! Learn more and sign-up.
The PTA is looking for volunteers to help in these roles:

 

Spring fling Co-Chairs

Family dance and game night Co-Chairs
Ice skating party coordinator
Movie night coordinator
Science/STEM night coordinator
Nominating committee for 2024
An individual to help file our PTA taxes (Form 990 for a not-for-profit organization)
Want to learn more about PTA volunteer opportunities, have a question, or want to sign-up? Contact our Volunteer Chairs!
Are you interested to volunteer in the classroom? Be sure your SPS Volunteer Application is complete! Learn more here.
Have You Joined Your Konstella Classroom Yet?
Konstella is your go-to source for school-wide and grade-level announcements, along with information specific to your classroom. Create an account if you're new to Whittier or haven't joined Konstella yet. If you've used Konstella in the past, you'll need to update your classrooms by going to Settings > Your Children > (Child's Name) > (Last year's classroom or "Not Assigned to a Classroom" > Select your student's classroom. 
Psst – While you're in Konstella, you can subscribe to our Konstella calendar or check out and subscribe to our Google Calendar.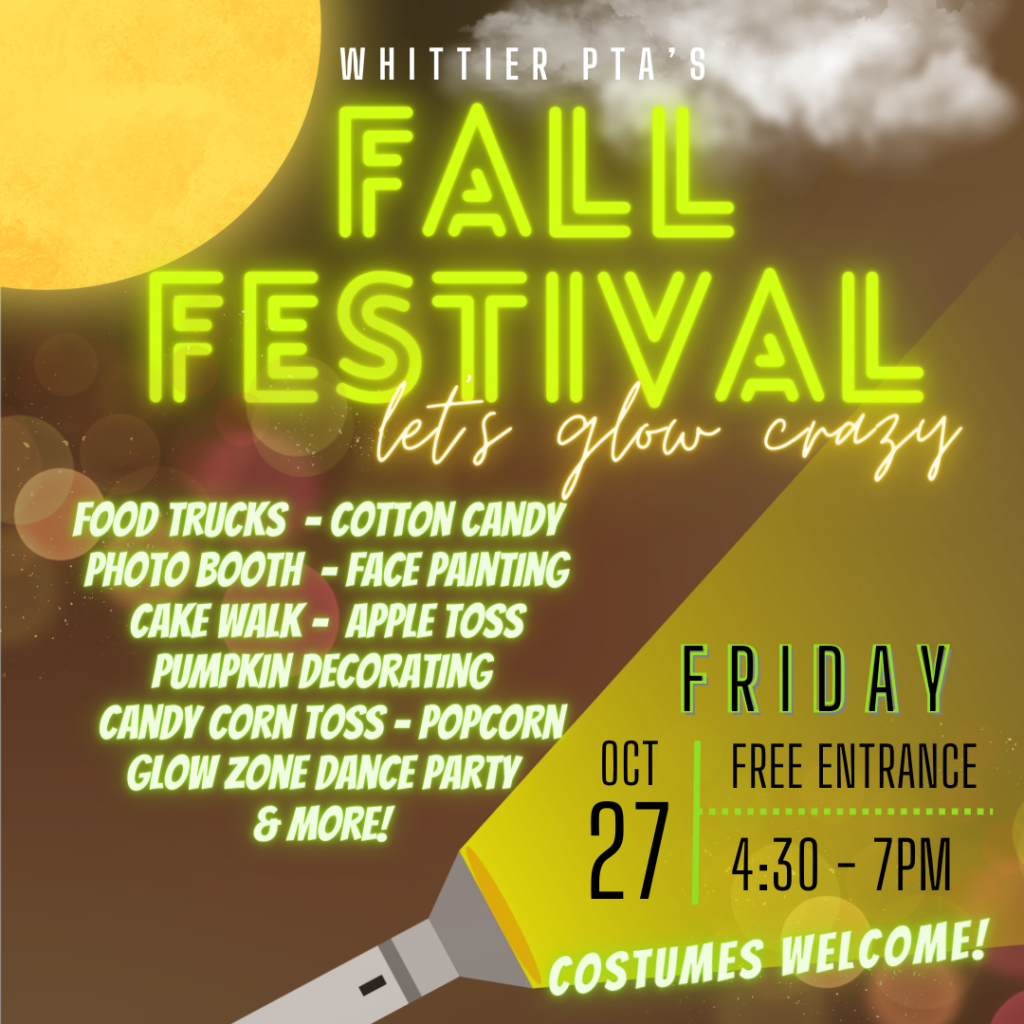 The Low-Down on this Year's Fall Festival Menu
Help Make this an Amazing SOCKTOBER!
Mrs. Parekh's 2nd grade class is collecting new socks to donate to The Bridge Care Center in Ballard. Spread the word to family and friends and start your collecting! Donation bins located outside Mrs. Parekh's room (210) and in the front office. Our goal is to get 200 pairs! Let's help all of our community have happy, dry feet this season!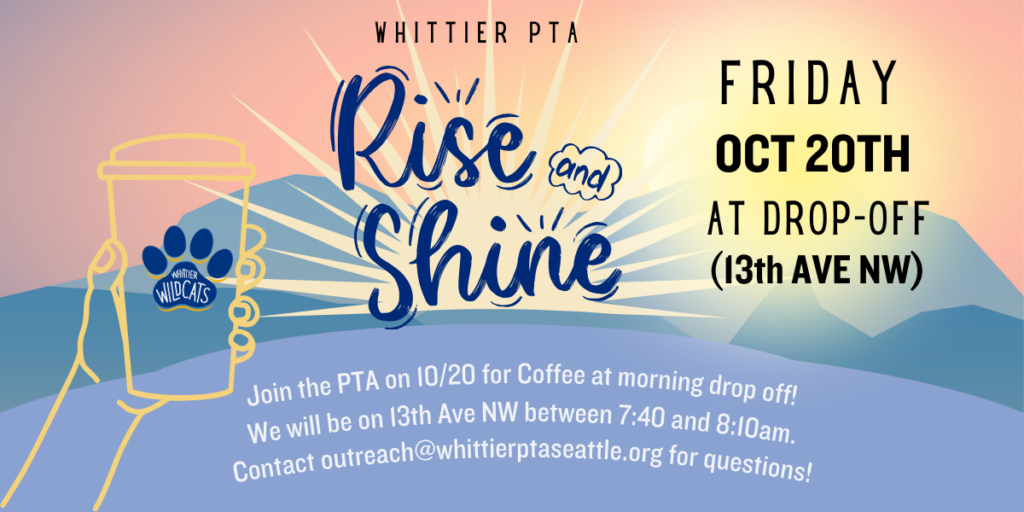 Hello Whittier families!
Whittier PTA is creating a directory of family contact info for arranging playdates, birthdays, and other fun! All Whittier families will receive a copy of the directory by email later this fall. 
We wanted to ensure all families had a chance to opt in. Opting in is voluntary. The directory will only include the information you provide. 
All entries are due Friday, October 20. 
No action is needed if you've already completed this year's print or online form OR you opted into the directory last year and your information hasn't changed.
Questions? Contact us!
Whittier PTA Reflections: Call for Entries
Call for entries to Reflections Art Program 2023-24. The theme is "I'm hopeful because…"
Get ready! All Whittier students are invited to participate by submitting one entry in one or more art categories. There is a Special Artist Division for students who identify as having a disability and receive services under IDEA or ADA: Section 504. Students may enter in the Special Artist division or the grade division most closely aligned to their abilities.
Submissions can be presented in person or electronically this year (but winning art will need to be electronically submitted to the Seattle Council PTA). The deadline to submit to Whittier PTA is November 1, 2023! Pick up a copy of the submission form in the office or use the downloadable form. For more information on the categories, visit the Washington State PTSA Reflections website or contact our Whittier PTA Reflections Program Chair.
5th Grade Families - October Staff Appreciation

FALL IS IN THE AIR!
Let's thank the Whittier staff with a fall-themed breakfast spread. Each month a different grade will provide goodies for Staff Appreciation. 5th Grade families are up first this year. 
Sign up HERE
Please drop off items labeled Oct Staff Appreciation to the office by 12pm on Wednesday, Oct. 18th.** The Hospitality team will set up breakfast before school on Thursday, Oct. 19th. Let the office know if your items need to be refrigerated. 
Email hospitality@whittierptaseattle.org if you have any questions. THANK YOU! 
This Year's PTA Board Meetings
Everyone is invited to join us at our monthly PTA board meetings! Members can vote on important issues and everyone is invited to share their voice. Save these dates to join us from 7-8pm!
Tues, November 14 (in-person at the Library & over Zoom)
Tues, January 9 (Zoom)
Tues, February 13 (Zoom)
Tues, March 12 (in-person at the Library & over Zoom)
Tues, April 16 (Zoom)
Tues, May 7 (in-person at the Library & over Zoom)
Password is always "wildcats." Questions about PTA meetings? Please
contact us
. 
Author Gary Gray, Jr. Delights and Connects with Wildcat Scholars
On October 6th, Whittier had the privilege of being author Gary Gray, Jr.'s first US stop on his tour to celebrate the release of his book, "I'm From." Wildcats across grades gathered into two sessions on Friday to welcome and learn from Gray, a celebrated author and 3rd grade teacher. Armed with decidedly traditional clipboards and paper, composition books, and pencils, Whittier scholars were asked to notice, explore, and express through guided prompts and Gray's sharing of his own history.
Gray's literary work and presentation blended drawn and lettered art; two disciplines students often experience simultaneously but consider contextually different. By exploring expression as written and/or drawing, Gray's playful presentation encouraged students, regardless of writing or drawing abilities, to express themselves. The presentation touched on a bevy of topics, from representation to writing as expression to the publishing process, and students were invited to draw, shout, ask questions and provide opinions. Wildcats made stick figure superheroes come alive with capes and quickly scribbled paragraphs of poems. With an emphasis on expression, Gray expertly paired the idea of having a "problem" (like, in his history, representation) with what to do about it.
Gray shared his own vulnerable history, including childhood photos and experiences, to help students safely explore the power of representation and words. Sprinkled in with comments about getting glasses and loving ice cream cake, real work to think through representation happened on the Whittier's linoleum cafeteria floor on that Friday morning, letting Wildcats sit with the question of whether they, too, should make their own stories.
Thank you to the Whittier PTA, Principal Watters, and Gary Gray, Jr., for making this author visit possible not only at Whittier, but also at nearby school Viewlands Elementary. Go Wildcats!
Supporting Gender-Diverse Youth: What Can Our Community Do?

How do our words and actions help support a gender-diverse community? This event will help all of us to be strong allies, regardless of our child's identity, and to be prepared to have affirming conversations with our children, their peers, and community members about gender-diverse identities.
In this interactive workshop, we will build our literacy and speak affirmingly about gender-diverse identities. We will learn skills and strategies to effectively support the young people in our lives. Together, we'll walk through scenarios, review students' rights in our schools, and learn why family support is the number-one predictor of LGBTQ youth health outcomes. Whether you're the parent of a gender-expansive kid or just want to know how to improve your allyship to these communities, we look forward to learning with you.
Tuesday November 7, 2023

6pm-8pm
Whittier Elementary School (1320 NW 75th Street, Seattle, WA 98117)
FREE Workshop for Caregivers & Grownups
Childcare provided for kids ages 3+
Snacks and drinks will be available
Learn more: https://tinyurl.com/48psmpsj 
PRESENTER
Sam Cristol, M.Ed. (they/he), program coordinator in the Health Education Office at Seattle Public Schools, whose role centers on improving schools for LGBTQIA+ students. As a queer and trans alumni of Seattle Public Schools themself, they are deeply passionate about making our district a place where LGBTQIA+ young people can thrive.
PTA Nominating Committee is looking for people!
We are looking for a few folks to help coordinate PTA Board Member Positions for the following school year (2024-2025). This is a great opportunity to perform outreach, facilitate education about all available board positions, and find great candidates to fill those roles. All PTA members are welcome to join the committee and if you aren't a PTA member yet, you can still join. We want your voice to be heard!
The primary duty of a Nominating Committee member is to find out which PTA officers and board members will be returning, figure out what positions are left to fill, and recruit potential candidates who are good matches for those spots. Time commitment includes a few meetings in November and a few in late winter. Much of the work is done via email and in face-to-face communications with people.
If you are interested in the committee, please contact Jess Templeton. Please include why you are interested in participating and any previous volunteer involvement you have had with Whittier (both school and PTA). If you are new to Whittier, that is great too, we just need someone who likes to talk to people and is looking to make an impact at our school!