May 30, 2023
Mission Complete: Thank You for an Amazing Spring Fling!
Thank you to everyone is our community that so generously supported our Spring Fling Block Party and Auction. Our goal was to raise $80,000 and, so far, we've raised over $100,000 to support essential staff and services at Whittier Elementary! We are so grateful to have such an engaged, welcoming community to enrich our Wildcats.
If you weren't able to purchase your Wildcat's aviator photo, there is one printed photo available per student. To purchase yours, select your preferred package from the online Aviator Photo purchase page, checkout, and show the front office your receipt when you pick up photos from Monica and Rebecca. Photos will be available until Friday, June 2nd.
There are also a handful of hosted party tickets and items still available for purchase. And if you didn't get a chance to participate in our Fund the Need campaign, it's not too late! You can still contribute here.
Please also consider amplifying any donation, including Fund the Need and financial contributions above an item's designated retail value, to any corporate matching programs (Whittier PTA's 501(c)3 Federal ID is Federal ID #91-1479413). Please reach out if you need any help submitting your corporate match.
Thank you so much for choosing to support Whittier Elementary and the Whittier PTA during this year's Spring Fling! Would you like to help make next year's Spring Fling a success? Please contact volunteers@whittierptaseattle.org to learn more about how you can help!
Upcoming Happenings
Keep your calendar up-to-date! Sync using Konstella (Visit "Calendar" and click on "Sync to My Calendar")
---
Thank You, Spring Fling Committee Volunteers!
Thank you to our incredible Spring Fling Committee for their generous donation of time, talent, and commitment to make this event a reality:
Anjean Vanden Bosch
Ashley Cannon
Ashley Schiavone
Brie Gardner
Courtney Sievers
Elliot Scher
Emi Matsumoto
Emily Gross
Emily Robertson
Glenda Elley
Gwen Weed
Jess Templeton
Jess Twardzik
Joa Pope
John Shaw
Joni Larson
Kellie Pecoraro
Laura Zingg
Liz Young
Melissa Ivancevich
Mendy Minjarez
Rebecca Grandin
Renee Hartnett
Sara Lukas
Shannon Louma
Tina Lilley
---
Volunteers Needed for Blacktop Painting Day – Friday, June 23rd!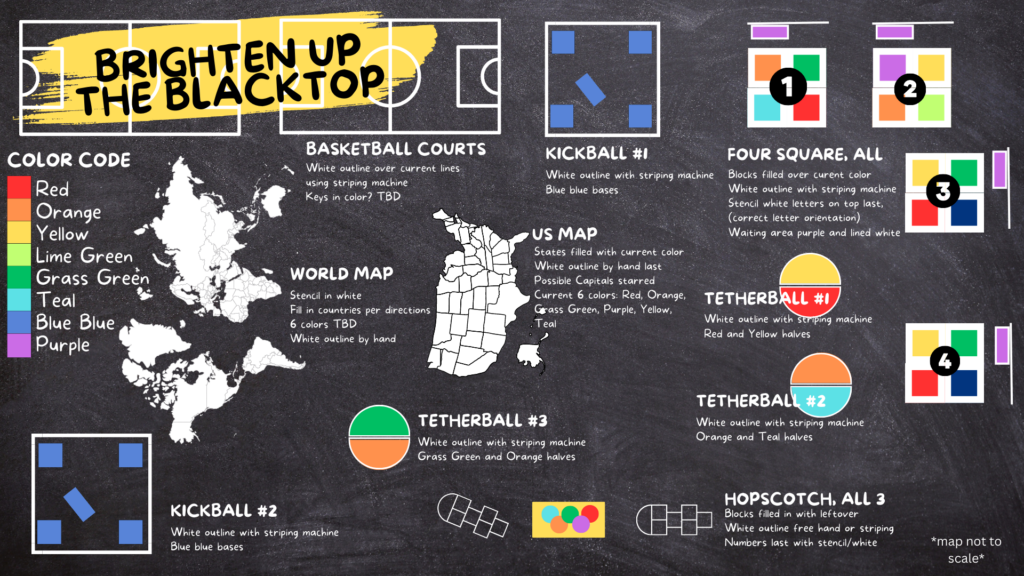 The blacktop is getting a refresh! Thanks to the hard work of our 4th grade leadership team, we are able to repaint the hopscotch, four square, tetherball, basketball, kickball and US map areas, and even add a WORLD MAP! But we need LOTS of helping hands.
Painting day is FRIDAY, JUNE 23rd.
Please sign up for shifts below! It's fine if you can't make all of a designated shift or if shifts overlap. Please make sure you have up-to-date volunteer status before you arrive. https://www.signupgenius.com/go/10C0E44A8A729A0FAC61-playground
Email Cindy or Emily with any questions.
---
Mark Your Calendars for Drag Queen Story Time!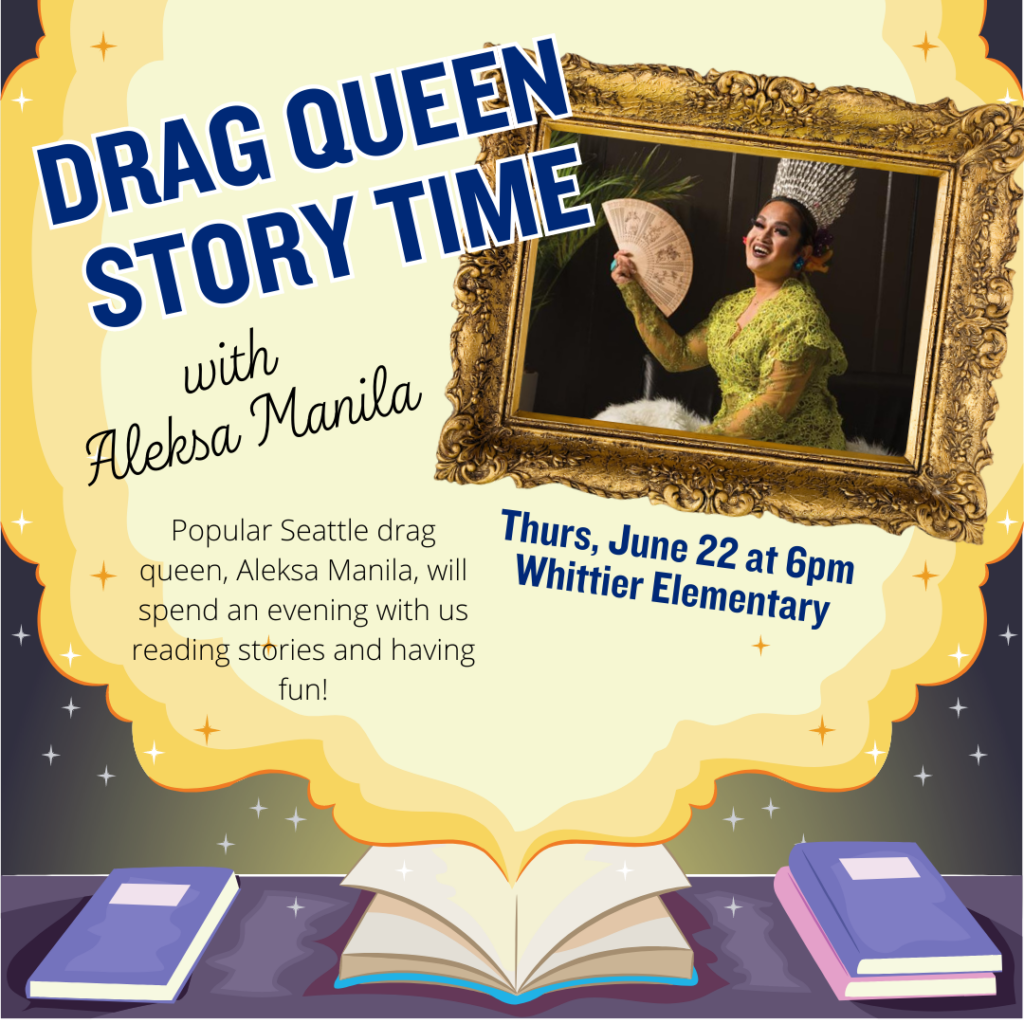 Come join us for a special story time on Thursday June 22nd at 6pm. Popular Seattle drag queen, Aleksa Manila will be stopping by Whittier to spend an evening with us to read stories and have some fun! Drag Queen story time is all about love, acceptance, inclusion and gives kids glamorous, positive, and unabashedly queer role models! During story times like this one, kids will be able to see people who defy rigid gender restrictions and imagine a world where everyone can be their authentic selves! Come join in the fun!
Last Chance to Opt-in to the Family Directory! Info Due 5/31
Whittier PTA is developing a Family Directory for students and families to use this summer. The Family Directory is an OPT-IN print directory providing family contact information. It is intended to foster communication within the Whittier community (e.g., arranging playdates, childcare swaps, family get-togethers, birthday party invitations, etc.) It's a great way to stay in touch with families you met at Spring Fling!
The directory can only be compiled with the information YOU PROVIDE. The PTA cannot access the contact information you've provided to the school. If you would like your contact information included in the directory, please see below:
Directory information and artwork submissions are due by Wednesday, May 31. Questions? Please contact elzingg@gmail.com.
---
Volunteers Needed for Field Day!
Join the team and volunteer on June 16 between 11:10am-2:10pm! (Please note you must be an approved SPS volunteer.)
Sign-up here!
2023-2024 PTA Board Seeking Volunteers for Essential Position!
We are seeking two volunteers to act as Co-Secretary for next year's board. This role primarily records meeting minutes and is perfect for a family new to Whittier or just getting involved in the PTA. For more information or to volunteer, please contact volunteers@whittierptaseattle.org.
---
Thank You, Wildcats!